Return to Headlines
Gamers find niche with esports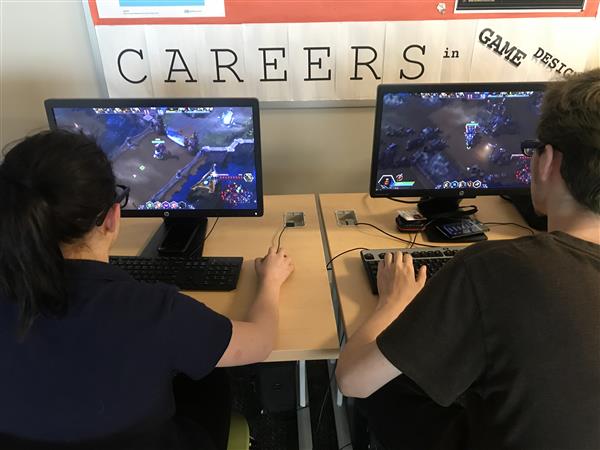 CMSD NEWS BUREAU
4/29/2019
CMSD has updated its high school instructional models to better reflect the times and student interests. But extracurricular activities have some catching up to do.
Some change has arrived, with the debut of esports, played by video game teams at the Cleveland High School for Digital Arts and John Marshall School of Information Technology.
The squads participated in in the pilot season of the Ohio Esports Triathlon, made up of nine teams mostly from Northeast Ohio. Digital Arts' Digital Dragons, who finished with a 5-1 record and the No. 1 seed, will play No. 2 GVeSports from Grand Valley High School in Orwell for the championship at 6 p.m. on Saturday at Hathaway Brown School in Shaker Heights. John Marshall IT lost to Grand Valley in the semifinals.
See highlights of games played by the Digital Dragons at
https://www.youtube.com/channel/UCakOizjeDYNcOIFo0iZPeOQ
Competitive video gaming has been around for a while but is gaining strength among schools as more colleges offer scholarships for the pursuit. Triathlon organizer J. Collins, who teaches video-game design at Hathaway Brown, studied the impact of esports on schools while working for the U.S. Department of Education and continues to do so through his own research and development start-up. He said the benefits to youth development are clear.
"Grit, perseverance, teamwork, leadership – if you want to see those qualities in action, all you have to do is go to an esports championship," he said.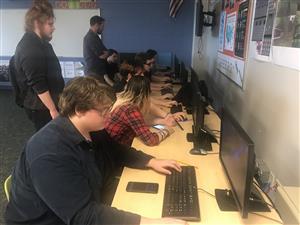 Coaches Nicholas Maskey of John Marshall IT and Dan McGlaughlin of Digital Arts competed against each other in video games as classmates at North Olmsted High School, kept on battling as roommates at Bowling Green State University and are still at it today. Their teams were to square off this season, but technical difficulties forced John Marshall IT to forfeit.
At John Marshall IT, Maskey said, esports have helped create a social network for shy, quiet kids who might not take to traditional sports. He said he feels a sense of school spirit building among the players, even hearing talk of organizing fundraisers.
"They're getting more invested in the school in a way that wouldn't have otherwise happened," said Maskey, who teaches Japanese and English at the school. "Otherwise, they would have gone straight home and played video games."
McGlaughlin teaches video game design, one of four CHDA pathways that integrate digital arts with core subjects. He sees the growth of esports as a natural progression, with players embracing video gaming as youths and staying involved as adults, like many fans have done historically with football, baseball or basketball.
"It provides the same benefits that any other team sport provides," he said. "It's a big confidence booster; it improves attitudes, grades."
The Cleveland School of Science and Medicine hopes to begin play next year. Principal Michelle Perez was skeptical when a student approached her with the idea, but he sold her on the benefits and displayed passion that she found inspiring.
McGlaughlin had openings for 10 players at Digital Arts but estimates that 10 times that number would have liked to participate. Some students who are not on the team gather around wall-mounted monitors and watch the action as it unfolds.
The triathlon features three games – Rocket League, Hearthstone and Heroes of the Storm – that appeal to a more general audience. The games have appeal across genders, said Collins, who teaches at an all-girls school. (Collins has blogged on esports. To read, go here.)
Aisaiah Ermudez, a junior at Digital Arts, is the team lead in Rocket League, directing strategy during a game that features cars playing soccer. He said he plays video games for up to six hours a day and dreams of playing professionally someday.
"Being on the team has been a good experience," said. "I'm grateful for it, honestly."
Teammate Terrence Gunn, also a junior, said he aspires to be known for his esports skills. He said video games are "just something I am really into."
"I don't like regular sports," said Terrence, who focuses on Heroes of the Storm for Digital Arts. "I like video games."
A third junior at Digital Arts, James Hume, said the launch of the team was an unexpected surprise. He looks forward to playing again next year, adding: "It was a really fun experience to go up against other schools."
CMSD is starting to see participation in lacrosse, rowing and other sports new to the District.
CEO Eric Gordon has encouraged the evolution, saying he wants the menu of interscholastic sports, like the District's portfolio of schools, to diversify. He noted that the additions might be more practical for some new, smaller school models that don't have the enrollment to field teams in traditional sports.
"We want to keep those traditional teams," he said. "But we also want to add the sports of the present and the future."
Have a story idea for the CMSD News Bureau? Email it to newstips@clevelandmetroschools.org.