Return to Headlines
Mayor-elect, school board get acquainted (Photo gallery)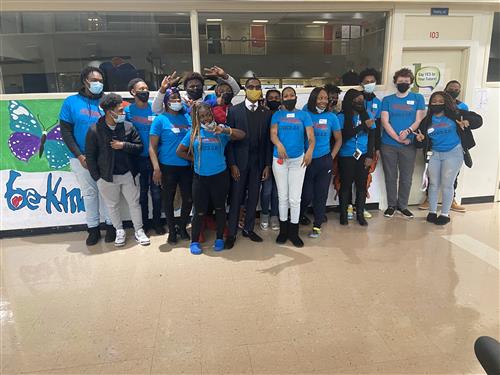 CMSD NEWS BUREAU
12/8/2021
The Board of Education called a special meeting Wednesday afternoon – to get acquainted with Mayor-elect Justin Bibb.
Bibb, who as mayor will oversee the District, talked priorities and needs with board members and schools CEO Eric Gordon. The mayor-elect lauded the District for progress under The Cleveland Plan and said he looked forward to working with school leaders.
"We can't be a great American city again without a best-in-class education system," he said.
Board members asked for help in improving digital connectivity in a city that has been rated as the nation's least connected. They also cited the need for electric grid and public transportation improvements, mental health services for students as they cope with the pandemic, and solutions for societal problems that interfere with academic success.
Bibb said that he would work with nonprofit partners like DigitalC and telecom providers to expand connectivity and that he saw a need to strengthen digital literacy. He also said he would focus on eliminating the threat to children from lead paint in Cleveland's aging housing stock and make sure that the city view policies and operations through "a child-centered lens."
CEO Gordon noted that the District is positioning itself for the future with plans for learning that is personalized, based on mastery, occurs "anywhere, anytime" and takes into account social, emotional and cultural wellness. Bibb said he was interested in seeing how those reforms are taken to scale.
The meeting was held at Design Lab Early College High School. The audience included students in Civics 2.0, a new District program in which students "experience" civics by registering voters, holding issues forums, blogging and participating in other activities.
"To the students out there, I'm your mayor," said Bibb, 34. "I'm not much older than you all. I'm the first millennial mayor."
The state placed CMSD schools under mayoral control in 1997. The mayor appoints the board's nine unpaid members.