Return to Headlines
CEO calls for new approach to education (Photo gallery, video)
Images from the 2020 State of the Schools address
CMSD NEWS BUREAU
9/22/2020
Education is different in the COVID-19 era, but many of its elements are well worth keeping when the health threat eases, CEO Eric Gordon said Tuesday in his annual State of the Schools address.
The speech was, as in past years, part of a City Club forum, but this time presentation was virtual, just like the current format of District classes.
The CEO said the pandemic and the killing of George Floyd have shined a nationwide spotlight on racism, social injustice and disparities in basic needs such as access to food, affordable childcare, technology and something that has become essential to success in the modern economy -- reliable high-speed internet.
To accommodate online learning, the District has pulled together money to provide a device for every student and create access to the internet for every CMSD family in a city that has the nation's highest rate of child poverty and was just ranked as the country's worst connected large city.
But Gordon said the transition also includes other practices that promote fairness and equity and should be maintained even after COVID is under control. Besides computer and internet access, these include allowing students to advance at their own pace, recording lessons for review and setting aside one day each week for teachers to help those who struggle to keep up.
"We all know there will come a day when COVID-19 is conquered, a day when we can 'go back to normal,' " he said. "But should we? What if this isn't just a pause? What if this is, instead, a reset? What if this is our chance to closely examine the inequities that exist in our communities and think differently about how to address them."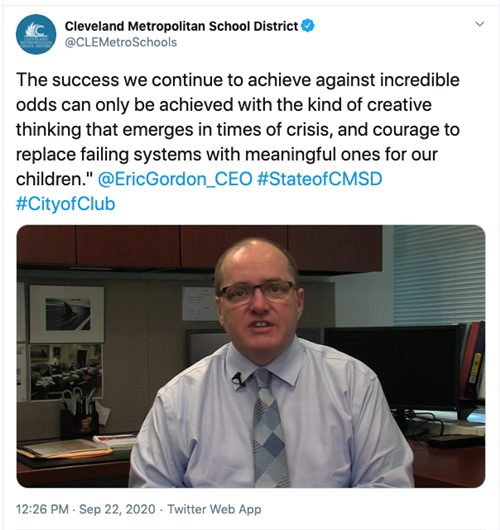 The CEO acknowledged in a question-and-answer period that some of the changes will require revisions in federal and state education policy. But CMSD had others, including student advancement based on mastery of content, in place before COVID-19 hit.
The Cleveland Plan, a customized blueprint for education reform in the city, and strong community support have produced results that Gordon said CMSD could build on in a post-COVID environment. He cited achievements made as Cleveland has vaulted from the worst performing school system in the state to one of the fastest improving.
The District has reached a record 80.1 percent overall graduation rate and even higher graduation rates for African-American and Hispanic students. It also has worked with the community to establish the Say Yes scholarship program, making college and career training accessible for graduates.
"If that is what we could do with our own self-generated reset, imagine what we can do now," Gordon said.
"We have a chance, this winter, next spring or whenever it is finally safe to reopen our school buildings, to re-emerge better than when we left them in March," he added. "We will return this time with full access to technology. Students and teachers will return having defined and practiced a new learning relationship, one that is far more flexible and nimble than the practices they left behind."
Gordon said the Nov. 3 vote on Issue 68, a levy renewal and increase, will be critical to continuing the District's progress. In response to a question, he said defeat would cost CMSD $66 million a year and require spending cuts across the organization.