Return to Headlines
CEO Gordon to step down at end of the school year (Video)
CMSD NEWS BUREAU
9/12/2022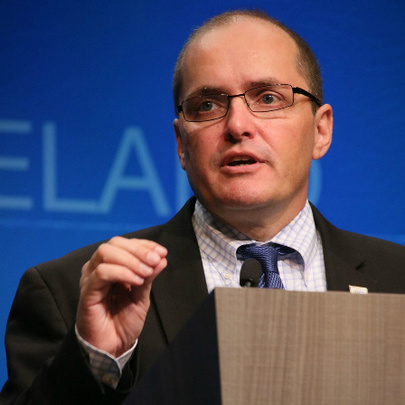 After more than 11 years as CEO of the Cleveland Metropolitan School District, Eric Gordon announced this afternoon that he will step down in June, at the end of the 2022-23 school year.
In a letter released to the CMSD school community, Gordon said the timing and conditions were right for the District's transition to a new school leader.
"I will forever be proud of the work we have done over the past 11 years at CMSD and grateful for the role each of you has played in the District's progress that I have every reason to believe will continue in the year ahead," he said.
"While the decision to leave CMSD was not an easy one for me, the time and conditions are right for the Mayor and Board to identify a CEO to lead the District's long-term recovery from the pandemic and to build on the gains we achieved during a remarkable and historic period in K-12 education."
"We are grateful to Eric for his dedicated service to the Cleveland Metropolitan School District and his stewardship of The Cleveland Plan for more than a decade," said Mayor Justin M. Bibb. "Eric is a true leader who puts the needs of students and families first. He has had a tremendous impact on Cleveland's young scholars and future leaders, and there is no doubt he will continue to guide and inspire those around him. We wish Eric all the best in his next chapter."
Gordon was appointed chief executive officer of the Cleveland Metropolitan School District in June 2011 after serving as the District's Chief Academic Officer for four years. Since then, he has been responsible for the leadership and daily management of Cleveland's 36,000-student school district. He is the longest serving CMSD superintendent since Paul Briggs, who held the job from 1964-1978.
Earning national recognition for his successful launch of The Cleveland Plan in 2012, Gordon authored a blueprint for legislative change and academic transformation that produced dramatic improvements in student performance over the last decade, including a 28.7-percentage point gain in graduation rates, from 52.2% to CMSD's current record high of 80.9%.
In 2018, despite record graduation rates, Gordon aggressively responded to a continued decline in postsecondary enrollment for CMSD students by leading a citywide coalition to bring Say Yes to Education to Cleveland. As a result, CMSD students became eligible for full-tuition scholarships upon graduation for the next 25 years, and CMSD saw its first increase in student enrollment in postsecondary education in five years, from 44 percent to 49 percent.
More recently, Gordon joined community partners in starting the Planning and Career Exploration, or PACE, program. PACE will help all students develop a plan to obtain living wage jobs, whether they pursue postsecondary education or training or go directly into the workforce.
Under Gordon's leadership in the last decade, CMSD saw a 71.6% increase in enrollment in high-quality preschools across the district, and the District closed the achievement gap for African-American and Hispanic students, with increased graduation rates that outpaced their peers statewide. On the National Assessment of Educational Progress (NAEP), CMSD was one of six districts in the nation identified as beating the odds with consistent improvement on at least two grade/subject combinations since 2009. Since 2011, when the state began releasing an annual report card, CMSD ranks fifth among Ohio's fastest-improving districts and remains in the top 1% for graduation-rate growth.
Among his many awards, CEO Gordon received the Green-Garner Award of the Council of the Great City Schools in 2016, distinguishing him as the Urban Educator of the Year, the highest honor for an urban school superintendent in the nation. In addition to being named one of Cleveland Magazine's Most Interesting People early in his tenure as superintendent, Gordon's active engagement in the Cleveland community earned numerous community awards, including the Diversity Center of Cleveland's Humanitarian Award, Inside Business Magazine's Power 100 Award and Smart Business Magazine's Top 50 Award, which honors the most successful executives in Northeast Ohio. Last year, the Martha Holden Jennings Foundation recognized the CEO with its Outstanding Ohio Superintendent Performance Award.