Return to Headlines
Dietitian wins grant for nutrition education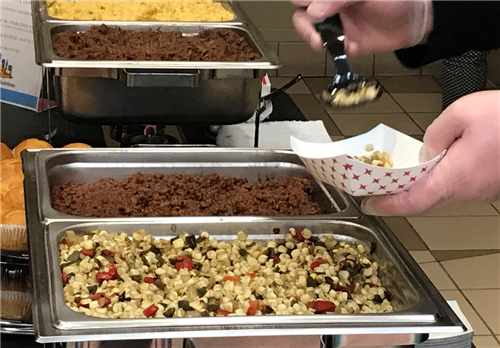 Allison Thirion, CMSD's district dietitian, plans to bring nutrition experts into classrooms across the District but will do so in a way that won't disrupt teachers' routines or require anyone to travel.
Thirion will soon begin recruiting authorities from hospitals, public health agencies and other organizations and have them share their knowledge with students via means like Skype or webinars.
Her Nutrition Network initiative will be funded with a $10,000 grant from siggi's, makers of skyr, a no-fat, reduced sugar yogurt that originated in Iceland. Thirion recently won the company's fourth annual contest for entrepreneurs, earning the largest grant yet. She was honored last month at an event leading up to the annual Food & Nutrition Conference & Expo, a major gathering of food and nutrition experts in Philadelphia.
Teachers who participate in the Nutrition Network will integrate nutrition with other subjects – for example, by merging information about locally grown food in an Ohio history lesson or covering the effect of carbohydrates during study of human energy.
"We're looking at things that make it relevant," Thirion said. "Teachers and students can connect the dots to what they are already doing and do it in a way that's fun and interactive."
Thirion said she is recruiting experts from local hospitals and other organizations in an effort to put "the best of the best" in front of students. Students will ask the experts questions and join in classroom taste tests, sampling healthy food that might introduce them to a new food or flavor.
She hopes to reach 5,000 students in 2020 and will seek additional funds to expand and continue the program the following year.
Thirion served as clinical dietitian at Dayton Children's Hospital before filling a vacant position at CMSD last year. She reviews and approves District menus to make sure they meet federal standards.
Chris Burkhardt, CMSD's executive director of school nutrition, is moving schools away from a limited, heat-and-serve menu to choices that are prepared in "semi-scratch" style and intended to be more to kids' liking. Offerings, including hand-held and spicier items, will be far less processed and more varied.
Executive Chef Tim Wright and crew will soon roll out for high school students what he describes as food-truck style food like fajita chicken or teriyaki bowls and wings that come with a choice of sauces. Changes will be made later in K-8 schools but will be tailored to the younger kids' more finicky tastes.
Thirion said the people see some of the brand names on current offerings and mistakenly conclude the food is not healthy. She said people might not realize that the companies also sell variations that are lower in saturated fat or salt.
"Our menus are designed to be kid friendly," she said. "The food items look like what kids want or are familiar with, or look like what you see in the grocery store. We have different standards than the grocery stores."