Return to Headlines
Executive Grille opens to the public (Video)
CMSD NEWS BUREAU
2/27/23
Camilla Boyd walked into the new Executive Grille at East Technical High School and couldn't contain her emotions.
"I walked in and started crying. This is magnificent," said Boyd, a 2016 Jane Addams Business Careers Center graduate.
Boyd also participated in the Cleveland Culinary Arts program when she was in high school. She says she is so excited the students have a new restaurant to hone their culinary skills.
"This is a great opportunity for them, and the food is amazing," she said.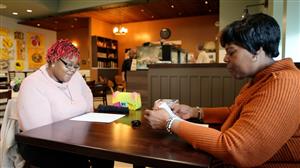 Camilla Boyd and her mother enjoy lunch at The Executive Grille
Boyd's mother, who has the same name as her daughter, joined Camilla for lunch on the first day The Grille was open to the public. She says she was amazed she was sitting in the area that used to be a swimming pool.
"When I found out they were taking over the pool area I was a little skeptical," said Camilla Boyd, a 1982 graduate of Jane Addams High School. "But this is amazing."
They are both excited that the students have the chance to learn in this $6 million state-of-the art facility.
Many of the students are still learning their way around the kitchen, but said they enjoyed serving customers.
"It is more organized here,' said Mikaela, an East Tech High School senior. "It is bigger, and the communication is better here.
Many of the other career-technical programs at East Tech are also on display at The Executive Grille.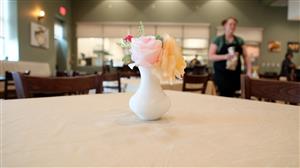 A vase made with a 3D printer
Students in the horticulture program grew many of the plants on display at the student-run restaurant. Lettuce, tomatoes, and herbs are grown hydraulically by students taking urban agriculture classes. The vases on the tables were made from a 3D printer by art and robotics students.
"We don't want to showcase just what one set of students are doing," said Chef Michael Szalkowski, Cleveland Culinary Arts Instructor. "We want to showcase the whole school."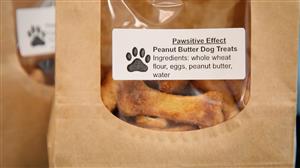 Students taking small animal science classes made healthy doggie treats that are on sale during lunch hours.
The restaurant is open to the public on Wednesdays and Thursdays during the academic year. For reservations, call (216) 838-2433.