Return to Headlines
School's holiday shop inspired by values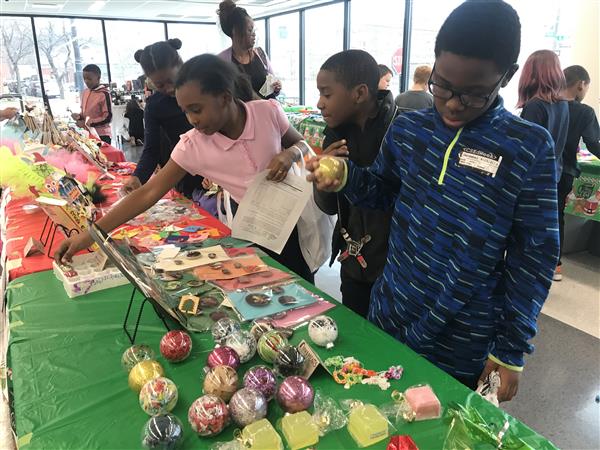 CMSD NEWS BUREAU
12/13/2019
Campus International K-8 School and its students stay true to their values, even when shopping for the holidays.
The Good Gift Holiday Shop was open for business at the school this week, stocked with craft items that students made from recycled or upcycled goods. Classmates buying for loved ones browsed tables loaded with art, soap, jewelry, magnets and more.
The concept was born several years ago after parents of students at the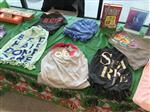 International Baccalaureate school questioned the sale of prepackaged trinkets and baubles. They said it was in conflict with IB's emphasis on sustainable practices and protecting the environment.
"They asked, 'Why are we spending all this money on stuff nobody really wants?' " Principal Julie Beers said.
The lessons go deeper, said parent Stephen "Skip" Begley, who co-chaired the event with his wife, Rachel.
The 65 participating "Bizkids," as the vendors are known, had to apply (though no one was rejected), develop business plans, price wares based on labor and the cost of supplies and track inventory.
Fifth-grader Siena and fourth-grader Shane, a sister and brother who did business as S&S Creations, started production way back in June. They fashioned bracelets from rubber bands, molded Pokémon balls with clay and made centerpieces out of wine bottles they spray-painted and filled with plastic flowers and figures of Santa Claus and snowmen.
Carmen, a fourth-grader, turned clothes that no longer fit her into scrunchies, scarves, bookmarks and bags that sold for up to $5. Her company, Upcycled Style, or US, found some of its inspiration on the Pinterest social media site.
"I'm learning you can upcycle clothes in more ways than you can think of," she said.
Vendors had to contribute 20 percent of their profits to a fund for the homeless or others in need. Carmen, who has considered becoming a veterinarian, said she planned to give another 50 percent to the Animal Protective League.
The students have years to decide on professions or careers, but Begley said they are off to an impressive start.
"It's planning and organization; you have to be dedicated and hardworking," he said. "They are putting a lot of thought into this."