Return to Headlines
Central schools honor 8th-graders' achievement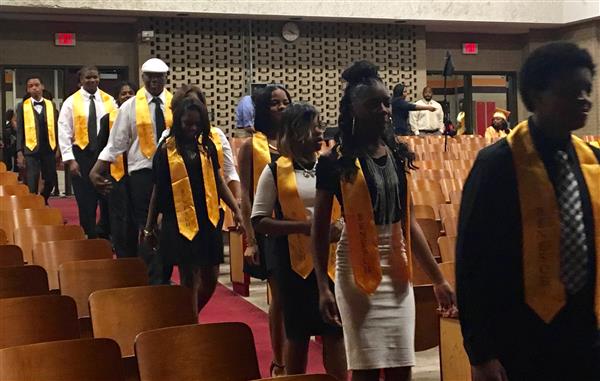 CMSD NEWS BUREAU
5/25/2016
George Washington Carver School student Myricle Cheairs credits her success in eighth grade to teachers who encouraged her and to friends who kept her laughing.
What Cheairs and other children in the Central neighborhood may not realize is they also have a network of community members behind the scenes working to keep them on track.
Parents beaming with pride filled the East Tech High School auditorium this week to salute 75 students who completed eighth grade at Alfred A. Beseech, George Washington Carver and Marion-Sterling schools.
Speakers at the ceremony said that while finishing eighth grade is a milestone to celebrate, it's critical that students make it to their high school graduation in 2020.
Warren Morgan, CMSD's one of eight network support leaders assigned to different groups of schools, charged parents and community members with keeping students motivated as they make the transition to high school.
"We're constantly seeing violence. We're constantly seeing many of our young children being incarcerated before they get a chance to grow and live their lives," Morgan said. "As we see all these bright examples of children that are doing well, let's make sure that they continue to do well."
The students have another team of cheerleaders from the Cleveland Central Promise Neighborhood, a CMSD partner dedicated to nurturing Central's children "from cradle to career," according to Lowell Perry, Jr., executive director of the organization.
Perry said the promotion ceremony was just one way neighborhood leaders are celebrating the accomplishments of children growing up in one of the city's poorest neighborhoods. Perry said many children in Central face hurdles like crime and intergenerational poverty.
"All of those have an impact on this journey," Perry said. "Everything we are doing has to be about young people and what we are doing to enhance that experience."
In a speech to her classmates, Cheairs echoed Perry's concerns about growing up in an adverse environment.
"Some of the things you go through at home or in your community can really change who you are and what you want to do in life," Cheairs said. "It becomes easy to focus more on the bad things going on around you in the present, and you can be sidetracked from striving towards your future goals."
Cheairs reminded her classmates that they need to stay focused and become role models for younger children.
The eighth-graders will disperse across the city for high school -- most of them to CMSD schools. East Tech Principal Temujin Taylor encouraged students who haven't selected a high school decision to consider East Tech.
Perry praised East Tech for its proximity to many of the students' homes, and also for a recent leap in the school's graduation rate. The four-year graduation rate jumped from 46 percent in 2013 to 72.9 percent in 2014, the most recent data available.
As a model of success, East Tech's 2016 valedictorian, Kaija Beard, was invited to speak at the promotion ceremony. Beard, who has earned a full scholarship to Wright State University, brought a message of resilience to the eighth-graders.
"Be everything that they said you couldn't be -- doctors, lawyers, engineers, the president," Beard said. "Don't let your circumstances determine your future, because you all are bright, brighter than you may ever know. Every single person on this stage is an example of black excellence."