Return to Headlines
Benesch teacher creates kit to boost kindergarten readiness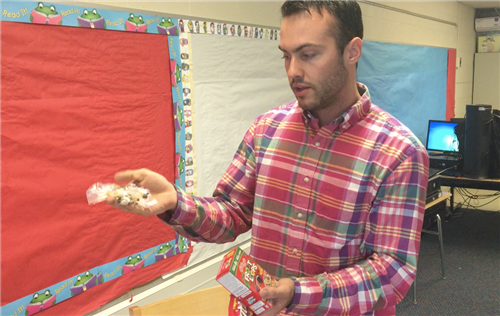 CMSD NEWS BUREAU
7/7/2016
When 26 kindergartners walked into Benjamin Colas' classroom last year for their first day of school at Alfred A. Benesch, Colas was surprised to learn that only one of them knew the alphabet. Two of the students recognized numbers, and many had never held a pencil before.
This meant Colas had to spend months trying to help catch students up on basic concepts like counting and categorizing.
In the winter, he was inspired to create a child development tool to help make incoming kindergartners more likely to succeed academically. Colas developed a kit that consists of everyday items -- like shaving cream, cereal and rice -- that most families have lying around the house. He calls them Kinder Kits.
Colas designed instructions for parents and caregivers on how to use the items for educational activities. One activity instructs them to smear shaving cream on a surface and help children use their fingers to draw numbers and letters. There's also Play-Doh and a mat with different shapes, which children can use to mold the Play-Doh, and start to recognize and identify shapes.
Parents and caregivers can use Froot Loops to help children sort by color, count how many pieces are in a pile, and calculate how many are left after the child eats some of the cereal.
Colas said he designed the Kinder Kits to empower parents and caregivers to take an active role in their children's education.
Colas noticed that even though his students didn't seem prepared, it wasn't because their parents and caregivers weren't concerned. He said one mother told him she wished she had known the expectations for her child upon entering kindergarten.
"I felt like there was a big gap in terms of parents not necessarily knowing what their kids needed to know, or how to develop those skills, and I saw this as a way to kind of try to close that gap," Colas said.
To make this easier, Colas includes a checklist with each kit. It lists 11 skills children should have mastered before they enter the kindergarten classroom, including counting to 20, sitting "criss-cross" and listening while someone is speaking.
Alfred E. Benesch is located in Central, one of Cleveland's poorest neighborhoods. A recent study from the Child Trends Data Bank showed that 21 percent of poor children ages three to six were able to recognize all 26 letters of the alphabet, compared with 35 percent living above the poverty threshold. And while 67 percent of young children living above poverty were able to count to 20 or higher, only 49 percent of those living in poverty could do so.
Local early education specialists say the kits have the power to make a difference.
Colas is working with Starting Point, a childcare and early childhood education nonprofit. Starting Point early learning navigator Tatiana Wells said the kits have the potential to give incoming kindergartners the boost they need to keep up with their peers.
"If they are failing already in kindergarten, they are not going to be able to succeed in other grades, and it affects them throughout their academic career," Wells said.
Starting Point helped Colas distribute about 250 kits to childcare centers and families in Central. He plans to collect data and gather feedback from families who use the first batch of kits. His long-term plan is to distribute Kinder Kits to the families of every incoming kindergartner in Cleveland.
The Kinder Kits are funded by two separate $5,000 grants Colas won through local competitions. Colas pitched the idea at the Accelerate 2016 competition earlier this year and was selected as a finalist by a panel of community members. An audience panel gave him the first-place prize. He won the second award at the StartupScaleup event in June.
Watch the video below for more details on Kinder Kits.