Return to Headlines
Halle is state program's 350th green building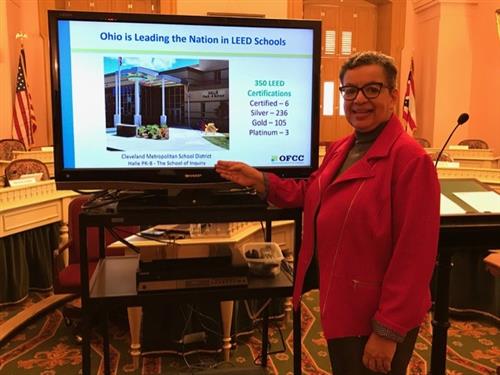 Cheryl J. Lyman, executive director of the Ohio Facilities Construction Commission, presents the numbers on the state's green school builidings.
CMSD NEWS BUREAU
1/23/2020
The Ohio Facilities Construction Commission has saluted CMSD's Halle School for becoming the 350th school built under a state program to gain green friendly LEED certification.
Halle, which opened in February 2019, is among 11 schools in the District that have received the international Leadership in Energy and Environmental Design designation. William Rainey Harper and Mound schools hold the second highest certification -- gold -- of four levels, followed by Halle and and eight other schools with silver. Ratings on five buildings are pending.
The OFCC helps fund the District's ongoing construction and renovation program and requires that the projects it supports receive at least silver certification
"I congratulate Cleveland Metropolitan School District's Halle PK-8 School for being the state's 350th LEED-certified building," said OFCC Executive Director Cheryl J. Lyman, who helped celebrate the milestone at a commission meeting Thursday. "Ohio has more LEED-certified schools than any other state in the country."
The ratings take into account design and construction practices, including classroom acoustics, indoor air quality, building materials and energy efficiency. The Halle project's sustainable features and practices include:
reuse of a former school site, preserving green space, and location in a neighborhood, allowing more students to walk or ride bicycles to school.
underground tanks under parking areas that collect and slowly release rainwater to prevent overloading the storm sewers.
window design that creates efficient internal light and reduces heat and sun glare.
a reflective roof that helps reduce costs for heating and cooling.
use of local materials, reducing the need for long-distance transportation.
energy and water-saving devices like LED lights, motion sensors, low-flow plumbing fixtures and high efficiency mechanical units.
monitoring building systems after construction to ensure efficient operation and surveying staff and students about lighting and temperature comfort.
CMSD's construction program began in 2002 and continues with funding from the OFCC and the second of two bond issues that local voters approved for the work. The state commission pays slightly more than two-thirds of the cost of new construction and full renovation.
The District has built or fully renovated nearly 50 buildings. The number will grow when a new John F. Kennedy High School and a West Side campus that will house Garrett Morgan and a second, as-yet unnamed high school are completed this summer.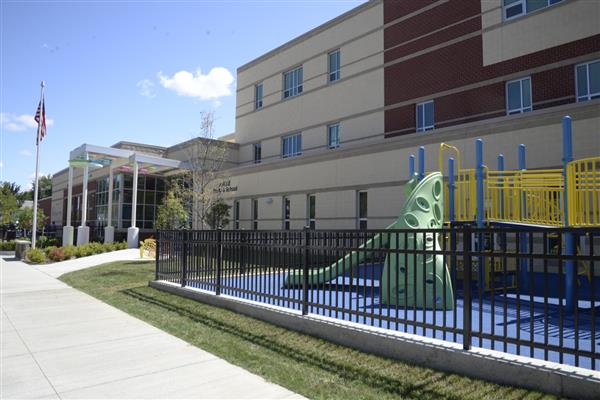 Halle PreK-8 School