Return to Headlines
[UPDATED 4/7 @ 11 PM] Coronavirus Updates for CIHS, CMSD, and CSU
LATEST UPDATE (4/7/20 @ 11 PM):
See our Weekly Newsletter for latest update:
Access to Resources During COVID-19 School Closure (Device Pick-Up on Thurs 4/9)
We know that many students and families are facing challenges engaging in online learning due to not having a device in the home, so CIHS is excited to be able to offer students and families the chance to borrow a school-owned chromebook for the remainder of the COVID-19 school closure (currently scheduled to end on May 1st).
You can RSVP here to let us know you need a device.
CMSD has permitted CIHS staff to distribute devices on Thursday, April 9th ONLY from 8 AM to 4 PM.
Walk-Ups are strongly discouraged for device pick-up. We do not want to put students in danger by requiring them to ride the bus(es) to school.
If you are unable to pick up the device with a car, we ask that you indicate below and we will try to make alternative arrangements to get you a device.
Students and families will NOT be asked to leave their car during the device pick-up (we will place the device in your trunk or backseat.
Families will be asked to sign a device loan contract and take a picture of it, sending the copy to Mr. Kim El-Mallawany via text (216.694.8534). There will be no exchange of paper during the device pick-up.
Internet Companies are currently offering free access to families with K-12 students:
Both Spectrum and Cox are offering free internet for two months for families with school-age students. Click below to learn more:
Phone Check-Ins From Staff
Advisors will be reaching out the week of March 30th to families to check-in on their students and ensure that everyone has the information they need in order to make the most out of the remainder of the state-wide school closure. Please look out for these calls.
Contact Information for Families
If your contact information has changed at all, please reach out to our school secretary, Ms. Aline House-Johnson (aline.house-johnson@clevelandmetroschools.org) or to Mr. Kim El-Mallawany (216.694.8534) to make sure that we have your updated info.
Online Learning Update for CIHS Students
While the district and state have yet to determine how students will be held accountable for distance learning efforts during this state-wide school closure, that information is forthcoming and will be integrated into CIHS' already-established efforts when it is released. In the meantime, Campus International students are expected to make every effort to remain engaged with their coursework to the extent possible.
Online Learning @ CIHS Launch-Site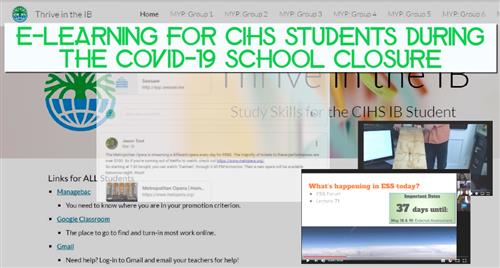 Our new "launch site" for Online Learning at CIHS can be found at http://bit.ly/IBThriveCIS and is accessible from our website's front page. While most information is accessible from teacher's individual google classroom sites (list of codes is here), students and families will find our launch site useful because of its comprehensive links to the online resources in each course.
Most online course sessions begin this week, so please check this site as soon as possible. Thank you to the many students who have already tuned in and a huge shout-out to all of our staff members who have gone to extensive efforts to continue to provide the high quality educational experience that our families expect, despite the challenges presented by the school closure.
Testing Cancellation Updates: IB & State Testing
As part of the state legislature's House Bill 197 that was signed by Governor DeWine last Wednesday, all state testing requirements, including the OSTs that we were getting set to administer in April, have been waived for this Spring. This means that students will not have to take the required exams in Algebra 1, Geometry, English 2, US History, US Government, and Biology. This waiver is in addition to the IB's decision to waive end-of-course exams for DP courses this spring (see last week's newsletter).
While House Bill 197 includes stipulations regarding graduation for this year's seniors, it is as of yet unclear whether graduation requirements will be modified for the current junior class (Class of 2021). Therefore, for students who were scheduled to retake OST exams this April in order to meet graduation requirements, we are currently planning to provide opportunities to prepare for and sit for these exams during the July administration if it still happens. Please stay tuned!
The International Baccalaureate has already made several accommodations for various deadlines due to schools around the world being affected by closures. You can read about those here.
In addition, on Monday, March 23rd, the IB made a major announcement canceling Diploma Programme end-of-course exams ("external assessments") for May 2020.
Read the Letter from IB regarding these exam cancellations.
Please keep in mind that our 11th grade students were scheduled to take only the Environmental Systems & Societies SL exam on May 19 & 20 this year. This is the only exam they were scheduled to take; DP students will take the other five exams the spring of their 12th grade year. Please note that the timeline for the Extended Essay (EE) has not changed and more information will be forthcoming from CIHS about expectations for students meeting with EE supervisors prior to the end of the school year whenever it is determined if and when we are returning to school this year.
You can check the IB website for any further updates due to the coronavirus .
March SAT Results
Official results for the March 4th SAT for members of the Class of 2021 were released on Saturday, March 28th and can now be accessed online through students' accounts on collegeboard.org. Students should check their results as soon as possible and consult with their parents as to whether they should sit for a third attempt. We strongly suggest that rising 12th grade students register for the August 29th SAT (scores released early September) so that they have their scores with enough time to decide if they want to take a fourth attempt.
All students will receive their complete SAT profile at CIHS through email on Monday, March 30th (complete with March 4th results for both the official SAT and Full-Length Khan Academy SAT Practice Exams for 9th and 10th grade students).
---
3/23 Update (obsolete information deleted)
3rd Quarter Report Cards
Students and parents should have received the third quarter report card via email with a link to the Managebac platform on Wednesday, March 18th. Due to the School Closure, we will not be mailing out physical copies of this report card. If you did not receive your report card via email and would like it resent to you via email or text, please contact Mr. Kim El-Mallawany by email at ameer.elmallawany@clevelandmetroschools.org or by phone at 216.694.8534.
Free Meals Continue Through CMSD
As a reminder, CMSD continues to provide meals (bagged lunch and a breakfast for the following day) at 22 school sites throughout the city. This is currently scheduled to run through Friday, April 3rd (including this week during our regularly scheduled Spring Break). Any student 18 or younger, including non-CMSD students, may pick up a meal (only one member of a family need be present to pick up meals for the entire family).
Please download the flier here or see more info on the district website.
---
3/14 UPDATE (obsolete information deleted)
School Closure
CMSD, in accordance with Governor Mike Dewine's directive from the afternoon of Thursday, March 12th, has canceled in-person classes for students for three weeks beginning on Monday, March 16th. Parents should stay tuned for more information about the resumption of classes during the next several days.
Parent/Advisor Conferences (Mon 3/16) Canceled
As per CEO Gordon's announcement on Sunday, March 15th, Parent/Teacher Conferences in all schools are now canceled for Monday, March 16th. More information regarding teacher availability will follow later this week for parents who would like to reschedule a phone conference with their child's advisor. In addition, parents will receive by email a graduation requirements eligibility tracker from which advisors were prepared to base conferences.
Teachers will not be available on Monday, March 16th for conferences in any format.
Campus Conference
Campus Conference, our signature annual academic showcase, has been postponed indefinitely due to the school closure. We will be in touch about a make-up date in April or May and hope that families will be able to join us!
Parent/School Communication During Hiatus
The school's main line (216.838.8100) will remain live during school hours and parents can still reach out to Mr. Kim El-Mallawany directly at 216.694.8534 with questions throughout this 3-week hiatus. We will also continue to send weekly newsletters and utilize the robo-text when needed. Parents should make sure that CIHS has updated contact information to ensure that you receive all communications during this three-week hiatus. Please reach out to our school secretary, Ms. Aline House-Johnson, to ensure that we have your updated information. Ms. Johnson can be reached at 216.838.8100 or aline.house-johnson@clevelandmetroschools.org.
---
Campus International, like most other institutions around the country and the world, is taking steps to make sure our community is prepared for the COVID-19 Coronavirus.
As always, please feel free to reach out to Mr. Kim El-Mallawany (216.694.8534) directly with questions or check the below links for updated information.
Guidance from the School
We are asking our students, parents, and staff to take the standard steps to make sure that they are staying healthy and ensuring that we don't contribute to the spread of illness of any kind. Mainly, this means four things:
Stay home if you are sick (and don't return until you are fever-free for 24 hours). You will have the chance to make up work!
Use hand sanitizer when walking into the building and make sure that you also wash your hands with soap and water before and after meals
Greet friends and teachers without extensive hand-touching.
Avoid touching eyes/nose/mouth and cover mouth when coughing and sneezing.
All decisions around school closings and cancellations of events and/or field trips will be made by the district centrally, and parents will be advised of these cancellations both by the district and by the school. Please stay tuned to your text messages and our weekly newsletter, and please make sure that your email address and phone numbers are updated in our system. Please reach out to Ms. Aline House-Johnson, our school secretary (216.838.8100), if you have updates.
Guidance from CMSD
Parents should have received a letter and an IVR robo-call from CMSD's CEO, Eric Gordon, regarding the district's preparations and response to COVID-19. If you did not receive this letter on Tuesday, March 10th with your child, please download it here.
Parents can stay up to date on the district's response via the district's website.
Guidance from CSU
Since we are on Cleveland State University's campus, it is also important for our community to remain up-to-date with CSU's guidance regarding their response to COVID-19. All CSU updates will be on their website here.