Return to Headlines
Joseph Gallagher teacher honored for excellence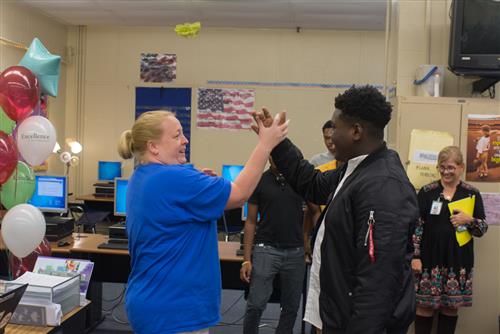 CMSD NEWS BUREAU
10/7/2016
Teams descended on CMSD schools Friday, surprising and honoring 10 teachers for outstanding classroom practices that the teachers will now share with their peers.
The 10 are the first recipients of the Excellence in Teaching Awards. CMSD, the Cleveland and George Gund foundations and the Cleveland Teachers Union are partners in the program, which is to be repeated annually.
The awards, each accompanied by a $5,000 check, are for teachers who demonstrate instructional expertise, creativity and innovation, make learning engaging, vibrant and relevant and set a standard of excellence.
The winners are:
•Dora Bechtel, second and third grade, Campus International
•Stephanie Chiariello, 10th-grade social studies, John Marshall School of Civic and Business Leadership
•Molly Gus, sixth- to eighth-grade English language arts, Scranton
•Laura Masloski, preschool, Nathan Hale
•Holly Morell, third grade, Joseph M. Gallagher
•Christine Richard, 10th- and 11th-grade social studies, New Tech East High School
•Christine Sims, 11th-grade English, Cleveland School of Science and Medicine
•Spencer Small, 10th-grade computer science, John Marshall School of Information Technology
•Bonnie Whitmer, kindergarten special education, Robinson G. Jones
•Stephanie Wojtowicz, fourth- and fifth-grade math and science, Mary B. Martin
Principals, teachers and other colleagues nominated 201 teachers after the program was announced in late May. From that field, 130 teachers applied and 101 obtained the necessary endorsement from their principals and another colleague.
A panel representing PreK–12 educators, higher education, philanthropy and the community sorted through applications, which had the names redacted, and selected 28 finalists. A smaller team named the winners.
Material written in support of Richard's nomination described her as an inspiration and example to the New Tech East staff and a mentor to new teachers at the school. "Everyone that comes into contact with Ms. Richard instantly becomes better," a colleague wrote.
Richard
(shown accepting congratulations from a student in photo at top)
was initially puzzled when Network Leader Lisa Farmer-Cole, who oversees a group of schools that includes New Tech East, and other visitors entered her classroom Friday. When she noticed the balloons they were bearing, she guessed what was up and began to tremble.
"Of all the teachers in Cleveland, of all the people who were nominated, I got chosen," said Richard, who is in her 17th year with the District. "I can't believe it."
Richard transferred to New Tech East when the school opened in 2010 because she liked the hands-on, project-based approach of the nationwide
New Tech Network
. In her social studies classes, she emphasizes to students that they are all capable of making a difference in the world.
"She helps everybody out," said student Karon Dukes. "She makes sure that everybody is on track and that nobody is left behind."
The winners and other finalists will be honored during a reception Nov. 10 at the downtown Drury Plaza Suites hotel, the District's former headquarters.
The 10 winning teachers will share their practices with peers in a variety of ways such as posting sample lessons online, allowing other teachers to observe them at work and conducting workshops.