Return to Headlines
Gallagher chess team wins state title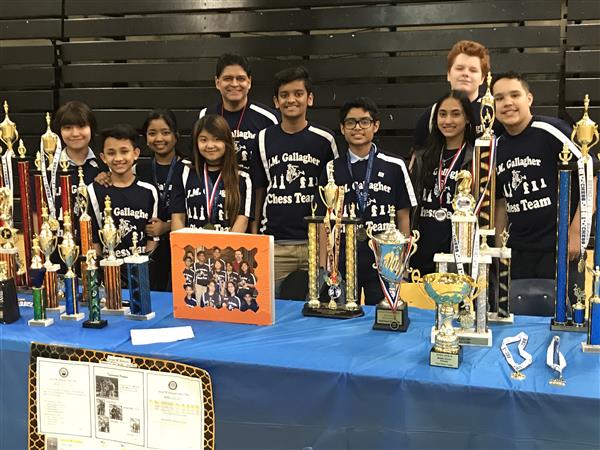 The Joseph M. Gallagher chess team has accumulated a lot of trophies this season.
CMSD NEWS BUREAU
4/11/2019
The chess team at Joseph M. Gallagher School has capped an amazing run by winning a state championship.
The team finished first in one of two middle-school divisions in an Ohio Scholastic Chess Association tournament held April 6-7 at the Hilton Garden Inn in Mayfield Heights. Team members took the top three places in the division and five of the first 15.
Competing in the same division, CMSD's Patrick Henry School finished third and Newton D. Baker School finished sixth.
Earlier in the school year, Gallagher won five Greater Cleveland Scholastic Chess League tournaments and the eighth-grade title in a statewide grade-level championship. The team also wrapped up a two-year 57-0 run against CMSD teams.
"These kids are very hardworking, they're coachable, they listen," coach Ahmit Ghose said. He also credited strong support from parents and school staff.
The team practices not only after school but also on weekends, sometimes for hours, at members' homes or other locations. They have bonded like family, sharing meals and activities such as basketball.
Sunita Magar took first in her division, followed by Oma Damal and Arpan Rai.
Sunita praised her coach and thanked teammates who push her in practice matches. She enjoys chess because there is no advantage to physical size or speed.
"You just need to use your brain," she said.
Sunita and Oma said they also take away life lessons from a game where the wrong move can have irreversible consequences.
"Chess increases your mental strength," Oma said. "It helps you be careful in the choices you make."
Have a story idea for the CMSD News Bureau? Email it to newstips@clevelandmetroschools.org.