Return to Headlines
Tacoma group visits health and science schools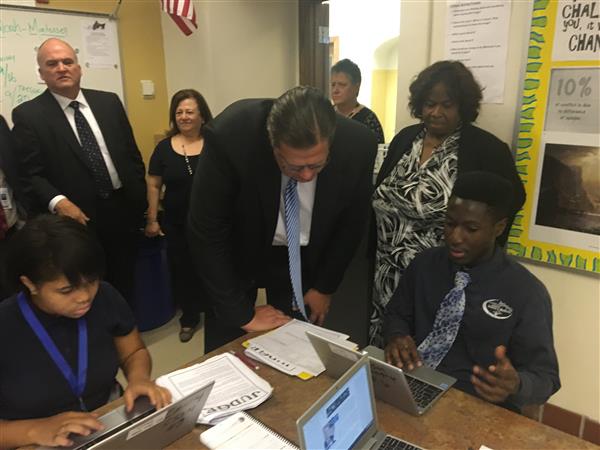 CMSD NEWS BUREAU
9/19/2016
Word has spread all the way across the country about CMSD's portfolio of innovative high schools that offer pathways to careers in the healthcare industry. The buzz surrounding these schools attracted education and business leaders from Tacoma, WA., who are interested in opening their own health and science school.
A delegation spent two days last week touring Cleveland School of Science and Medicine, Martin Luther King Jr. Career Campus and space that the new Lincoln-West School of Science and Health occupies at the MetroHealth System's main campus. The representatives (pictured above with CSSM students) said they were amazed by the schools and eager to implement some of CMSD's successes in Tacoma Public Schools.
The Tacoma school district is the third-largest public school system in Washington State. It's smaller than CMSD, enrolling about 29,300 students at 57 schools, according to the latest data from the Washington State Report Card. About 61 percent of students are considered economically disadvantaged, and 59 percent are minorities.
Tacoma superintendent Carla Santorno said she was most impressed with CMSD's partnerships with top-notch hospital systems like the Cleveland Clinic, University Hospitals and MetroHealth.
"I love the way the medical community is working so closely with the school district and that there's a variety of partners," Santorno said "It's incredible."
The delegation's first stop was the Cleveland School of Science Medicine, which recently celebrated its 10-year anniversary and has been ranked among the nation's best high schools. Students there gain networking and field experience with University Hospitals, the Cleveland Clinic, Case Western Reserve University's School of Medicine, the Northeast Ohio Medical University and Cleveland State University.
The delegates met with school administrators and students, as well as representatives from Case Western and NEOMED who raved about the high school and its role as a pipeline for future medical students who have roots in Cleveland. They walked through the halls and met aspiring doctors and scientists, including one senior who is currently assisting a Case Western professor in his cancer research.
Case Western neuroscience Professor David Katz told the delegation that these partnerships help professors make connections with CSSM students that pique students' interest in attending Case Western. Mentorships that begin in high school often continue through undergraduate and medical school, Katz said.
"We're already preparing them when they're in high school for all of those steps, not just to make one jump, but to get them all the way through matriculating as a physician or scientist," Katz said. "I think it's that integrated package that makes this such a special and successful program."
Ron Langrell, president at Bates Technical College in Tacoma, said he hopes to develop a similar pipeline for high school students in Tacoma. Bates is located near multiple hospitals and is also in the queue for a new 100,000-square foot building that Langrell hopes to use for the high school partnerships.
On the second day, the delegation toured the new Lincoln-West School of Science and Health's classrooms at MetroHealth to learn about the unique program, believed to be the first of its kind in the country.
The Cleveland Plan
, a customized blueprint for reform, calls for creating a variety of school models to give students more options. Science and Health, one of two new models that opened July 25, will give students a look at careers in health care, both medical and non-medical, as well as opportunities for job shadowing, mentorships and field experiences throughout the year.
While the students just started using the
hospital classrooms
a couple weeks ago, MetroHealth's manager of external education, Stacy Johnson, said students have already started connecting with hospital staff. One student last week asked a MetroHealth neurologist to be his mentor after the doctor visited in his class as a guest speaker, Johnson said. The doctor agreed enthusiastically.
"The employees have been extremely excited to be a part of it, and I think that's a huge part of making this successful," Johnson said.
This is the type of program that Tacoma schools aim to develop with the MultiCare Tacoma General Hospital and CHI Franciscan Health, both of which sent representatives to Cleveland. Santorno, the superintendent, says she wants to move her school district toward the school choice model that CMSD has adopted in recent years.
Tacoma visitors said CMSD left an unforgettable impression.
"I'm blown away by the students and where they're at in terms of their own motivation to learn and to study," said Dianna Kielian, a representative from CHI Franciscan Health. "And I'm amazed at the collaborative relationships outside the school system."