Return to Headlines
Manufacturers take 'plant tour' at Max Hayes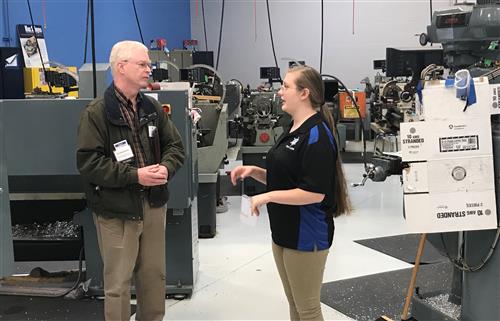 CMSD NEWS BUREAU
10/16/2018
CMSD is big on connecting students with real-world experiences outside of school. It introduces them to and whets their appetite for high-paying jobs.
On Tuesday, the real world came to Max S. Hayes High School.
Manufacturing Works, an industry advocacy group that works closely with Max Hayes, hosted more than 40 business people at a "plant tour" of the career-technical school.
The visitors learned about the school's career pathways and how those could help fill the skills gap many local manufacturers face. The group was largely from small and medium-sized manufacturing companies, and many are family owned, so it was often the boss getting the message firsthand.
"They spoke directly to students," said Kristin Haning, manager of outreach and development for Manufacturing Works, formerly WIRE-Net. "They asked why they chose their pathways and how they could make their jobs more appealing to them."
Student ambassadors and teachers fielded questions and explained how their programs operated.
Arlene Cleveland teaches computer-aided design in the school's manufacturing and engineering pathway, which includes precision machining, welding and engineering principles and design. She invited companies to partner with the school and help show students how the skills they are learning can be applied.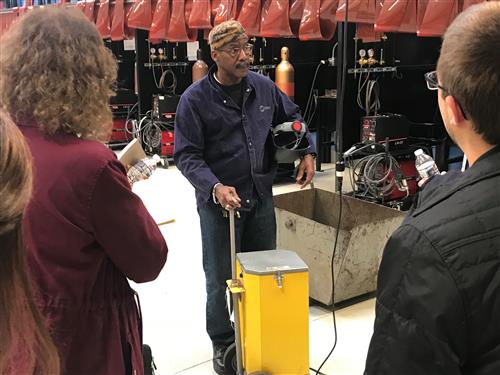 "The more input or interest we get from industry, the more cool projects we can work on," she said.
Jake Geiger and Josh Smith of Beverage Machine and Fabricators showed keen interest and sounded as if they were ready to hire on the spot.
The company, located a short distance from Max Hayes, has gravitated from supplying the beverage industry to heavy machining for the Navy and customers in the mining and oil and energy sectors. Most of the 15 employees, including Geiger's father, who is the owner, and Smith's dad, the plant manager, are nearing retirement.
Geiger and Smith were impressed with Max Hayes' facilities and equipment, the instructors' passion and the students' eagerness and demeanor.
"The students carried themselves very well," Geiger said. "I got the vibe that they are here because they want to put themselves in a better situation."
Manufacturing Works aids Max Hayes by facilitating presentations by industry speakers, plant tours, job shadowing and internships. It also has developed a pre-apprenticeship program in CNC machining.
Max Hayes' other pathways include diesel technology and construction technology, which covers building and property maintenance and automotive technology, collision repair and technology repair.
Have a story idea for the CMSD News Bureau? Email it to newstips@clevelandmetroschools.org.