Return to Headlines
Max Hayes student named Youth of the Year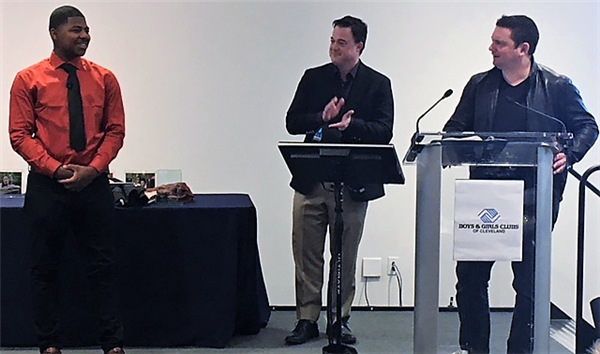 CMSD NEWS BUREAU
3/15/2019
Frank Austin has yet to graduate, but the senior at CMSD's Max S. Hayes High School already knows the value of working hard and handling responsibility.
Frank, the Boys & Girls Clubs of Cleveland's new Youth of the Year, said he instantly became the "man of the house" after his Mom died when he was 14.
His days have included rising at 5 a.m. to get younger siblings ready for school and then taking two buses and a rail line to Max Hayes, a career and technical school at West 65th Street and Clark Ave. He has worked two years as a lube tech at Liberty Ford in Maple Heights, putting in hours after school on Mondays and Thursdays and a full day on Saturday.
"He is one of the best examples we have of what someone who works for Liberty Ford should embody," Liberty Auto Group CEO Michael Herrick told the audience after the selection was announced Friday at BGCC's annual Breakfast of Champions, held at Cuyahoga Community College's Metro Campus.
Frank, who has made honor roll at Max Hayes High School, serves as a junior staff member at BGCC's Broadway Club and a P-16 youth leader for the Slavic Village Development Corp.
He has helped run "Stop the Hate' events at the club and diagnosed mechanical problems during the Ohio City Bike Co-Op's Fixathon. He was also named MVP of the Senate golf league two years in a row.
Frank now moves on to Boys & Girls Clubs state competition. He was presented with a Youth of the Year jacket by Washington Park Environmental Studies graduate Tamara Thomas, who won the honor locally and statewide last year.
Frank received a $5,000 scholarship from Cleveland Indians Charities and $2,000 from BGCC's Women's Board. Liberty and the Matrix Trade Institute in Beachwood have committed to covering the rest of tuition for training he will undergo to become an automotive technician.
"When you're done, there is a job waiting for you at Liberty Ford," Herrick said.
Frank was one of four finalists for the award. The others, who are also CMSD seniors, their schools and the clubs where they are members, are:
Ti'yonna Scott, John Adams High School and the Boys & Girls Clubs' John Adams Teen Center. Ti'yonna helps organize field trips for the Teen Center and has contributed more than 100 hours of volunteer service on club projects.
Danesha McKinney, Jane Addams Business Careers Center, King Kennedy Club. Danesha is one of the top 10 students in her class and has completed more than 900 hours of volunteer service.
Doriann Johnson, Jane Addams Business Careers Center, King Kennedy Club. Doriann, who ranks at the top of her class, is a Girl Scout Troop co-leader, has volunteered with Ronald McDonald House and has helped with back-to-school events.
The other finalists also received scholarships from Cleveland Indians Charities.