Return to Headlines
CMSD CEO Listening Tour includes Coffee Chats (Video)
CMSD News Bureau
8/23/23
For some, a good cup of coffee and conversation fills the soul.
CMSD CEO Dr. Warren Morgan has admitted publicly on numerous occasions that he loves coffee and probably has too many cups a day. To pay homage to his love of coffee, Dr. Morgan is hosting "Coffee and Conversation with the CEO" as part of his Listen and Learn Tour.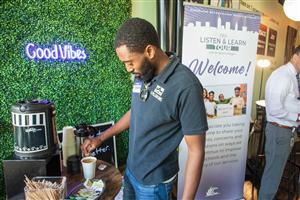 Those who attended the Conversation and Coffee with the CEO poured a hot cup of coffee at UnBar Cafe.
At his first stop at UnBar Café, on the City's eastside this week, Dr. Morgan settled into a comfortable black leather chair to have a conversation with members of the community.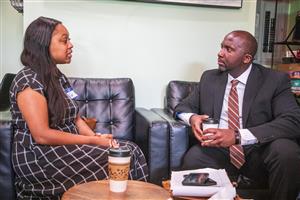 Dr. Morgan speaks with concerned citizens.
One-by-one for more than an hour, concerned citizens chatted with Dr. Morgan about various things including the mental health of students and offered suggestions on ways to improve the district.
For more than a month, Dr. Morgan has been travelling the city to speak with various organizations, parent ambassadors and leaders of the faith-based community.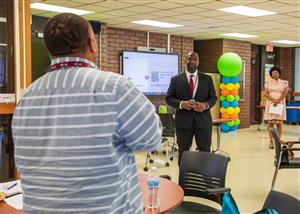 Dr. Morgan listens to the Parent Ambassadors.
During each event, participants are asked three essential questions: What is needed to improve the quality of education in the Cleveland Metropolitan School District for our students and families? How can we partner to accomplish these goals? If you were CEO, what would be your first course of action?
The next Conversation and Coffee with the CEO is this Friday, September 1st at Third Space Action Lab - 1464 East 105th St. #302. Your first cup of coffee is on the District.
On September 28th, the first of two public town hall meetings will be held at Friendly Inn Settlement, 2386 Unwin Rd. Pre-registration is suggested.
For a list of upcoming Coffee and Conversation stops with the CEO and other stops on Dr. Morgan's Listen and Learn Tour click here.