Return to Headlines
Higher percentage of CMSD graduates enrolling in college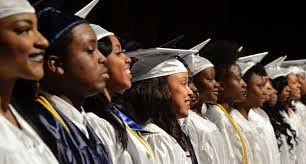 CMSD NEWS BUREAU
12/13/2019
The percentage of CMSD graduates enrolling in college is up for the first time in five years.
According to the National Student Clearinghouse Research Center, 44 percent of the District's 2019 graduates enrolled in college for the fall. That was up 4 points from the previous year, and the figure could rise if additional students enroll for spring.
The rate declined from 49 percent in 2014 to 40 percent in 2016 and had stayed flat until now, even as CMSD's graduation rate, currently at 78.2 percent, continued to set new record highs for the District. Many attributed the trend to the rising cost of higher education.
CMSD graduates received a boost this year from new Say Yes to Education scholarships that pay up to the full value of tuition, minus federal and state aid. The scholarships may be used at all public colleges and universities and Pell-eligible training programs in Ohio and more than 100 private colleges and universities across the country.
Say Yes Cleveland provided $635,000 for scholarships to the Class of 2019 for the fall semester.
"We're pleased to see that in this first semester, we've had a larger increase in enrollment than projected, while at the same time our scholarship payouts came in below projections," said Diane Downing, executive director of Say Yes Cleveland. "Students are enrolled in college now, thanks to Say Yes scholarships, and we look forward to more and more students taking advantage of the scholarship each year."
Say Yes scholarship payouts for fall semester have been approximately 40 percent less than projections, due largely to an increase in grant money that Ohio gives to students with high financial need. Many of those students received enough federal and state aid to cover all tuition at their chosen institutions.
The increase in college enrollment was primarily at two-year community colleges, according to the data.
About 28 percent of the class enrolled at four-year institutions, but that number essentially remained flat. One reason could be that many four-year colleges and universities cut off fall admissions before or shortly after Say Yes was announced on Jan. 18.
The largest numbers of students enrolled at Cuyahoga Community College and Cleveland State University, followed by Kent State University and the University of Akron.
Say Yes scholarships are available to graduates of CMSD or eligible partnering charter high schools. Starting this year, students must be continuously enrolled in one of those schools and live in Cleveland or the District from ninth grade until graduation to qualify.
Community leaders have raised $92 million for the Say Yes endowment fund, which is intended to last for 25 years.
For more information on Say Yes, go to sayyescleveland.org