Return to Headlines
Teaching artists fuse art, academics
p dir="ltr" style="line-height:1.38;margin-top:0pt;margin-bottom:0pt;">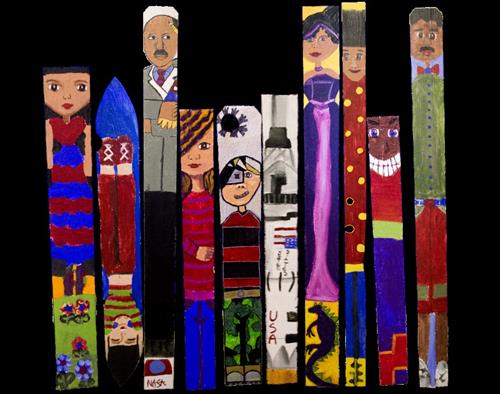 CMSD NEWS BUREAU
10/27/2016
About 20 "picket people" found a permanent home this week in a hallway at Newton D. Baker School of the Arts. The "picket people" are part of an academics-based art project that students created with Cleveland-based Cuban artist Augusto Bordelois through the Center for Arts-Inspired Learning.
But this was no ordinary art project -- it was infused with science and poetry.
Bordelois worked with fourth- and fifth-grade teachers for one quarter last year as an artist-in-residence. The project, called "Earth and Beyond" included workshops with Bordelois that aligned with state academic standards in science, language arts, technology and theater arts. Together, Bordelois and the teachers developed lessons about the solar system, geography, poetry and math concepts and tied it all together into an art project.
Students grouped into pairs or threesomes to design and paint their "picket people." The groups designed and painted on the pickets a person that was featured in or inspired by their lessons. One was named "Robby Robot" and another was modeled after scientist Neil Degrasse Tyson.
To incorporate poetry into the art project, language arts teachers worked with Cynthia Larsen from Lake Erie Ink, a program that aims to give children a voice through writing workshops. Students used alliteration to write poems to describe their "picket people." For example, "Jester Jerry" was "joking, juggling and joshing for fun."
Newton D. Baker is just one of about 20 CMSD schools who work with Center for Arts-Inspired Learning artists each year. While Newton D. Baker has quarterly artist residencies, the programs are customized to each school's needs and curriculum. Some artists spend an entire year at the same building, while others may visit various schools for a one-time workshop.
Bordelois has been working with Newton D. Baker students and teachers for six years. He often sees students who struggle with a certain math or science concept eventually grasp that same concept through an art project.
"I explain to them that an artist doesn't just get in front of a white canvas and start painting," Bordelois said. "There is a process, and it's the same process that you're going to use to create a science experiment."
Megan Thompson, special projects manager for the Center for Arts-Inspired Learning, says the artists bring new, engaging teaching methods to students.
"It reaches kids who might not be reached with traditional teaching methods," Thompson said. "It's a way to pull together the kinesthetic and the auditory and the visual, and give kids a chance to shine in their different skill sets."
And along the way, the artists become a part of the school community. Newton D. Baker Principal Wendy Rose-Geiling says workshops with Bordelois and other resident artists are the best part of the day for some students.
"They come to all of our events, and they support us however they can," Rose-Geiling said. "They're part of our family at Newton D. Baker."
These types of meaningful community partnerships are one of the goals of
The Cleveland Plan,
a set of reforms designed to improve education across the District. The artist residencies are paid for with funds set aside for arts programming in Newton D. Baker's budget, which falls in line with another one of
The
Plan's
goals: to give schools and principals more authority over their resources and budgets.
Projects like "Earth and Beyond" aren't the only way CMSD collaborates with the Center for Arts-Inspired Learning. The District also works with the center to teach students about filmmaking and digital arts. Last year, hundreds of middle school students created original short films through the center's storytelling residency program. Students wrote, directed and edited their movies and later attended a film festival to showcase their work. That program is back in seven CMSD schools this year.
At the Newton D. Baker art installation, Bordelois' lessons continued as he helped students arrange their art and taught them about composition. Students excitedly volunteered to place their work where they thought it looked best among the others, with Bordelois' guidance.
Art teacher Christine Campion told students that their "picket people," which were previously shown at two art shows and briefly installed at Kamm's Corners, traveled around more than Vincent Van Gogh's art did when he was alive.
"The picket people have traveled, and now they're coming home," she said.