Return to Headlines
CMSD's emergency strategy has many pieces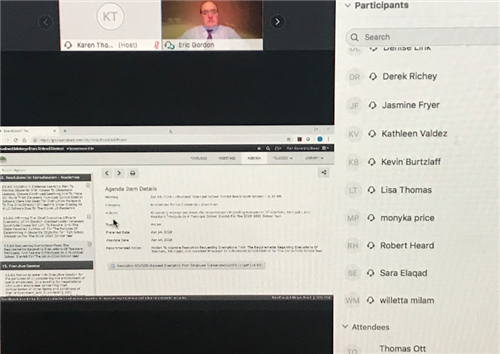 CEO Eric Gordon speaks during a meeting of the school board held by videoconference.
CMSD NEWS BUREAU
4/16/2020
CMSD is distributing 21,000 devices to connect students to online instruction. It also will mail packets of academic enrichment material weekly to the homes of all 38,000 students.
But bridging the digital divide and seeing that learning continues in one of the nation's poorest cities are only two of many steps needed to get through and beyond the unprecedented challenges of a global health emergency.
The District also is working to meet the needs of complex groups such as special-education students, English language learners and homeless children; maintain core operations; advocate for changes in state and federal policy; and chart an uncertain future.
CEO Eric Gordon laid out those priorities this week at a school board meeting held by teleconference to protect the health of the board, school personnel and the public. Then he added one more: keeping tabs on a population that was under overwhelming stress well before the COVID-19 pandemic struck.
"Finally, and I would argue, most importantly, we need to support our families by engaging and communicating with them on a regular basis," Gordon said.
Here are highlights from CMSD's areas of focus:
INSTRUCTION
CMSD is providing a "menu of options" to ensure it can meet students' individual needs and continue engaging them during the closure as required by state law.
The District is distributing 12,000 devices it already owned, as well as 9,000 Chromebooks that it purchased. Schools are handling the rollout, which started last week with high schools.
(Cuyahoga County donates 300 hotspots, lends other help to increase access.)
The District also is going to mail academic enrichment packets weekly to all students, starting next week, and provide novels and other books to students.
Students and families will be able to call a tech support desk as well as homework hotlines.
The District is determining which seniors have met requirements for graduation. It is reminding seniors bound for college or career training to apply for acceptance, submit the Free Application for Federal Student Aid, or FAFSA, and apply for Say Yes to Education scholarships.
OPERATIONS
The District continues to provide free grab-and-go lunch and breakfast at 22 school sites, with traffic growing since the start and meals reaching 5,000 in a day for the first time this week. Shuttle service to meal sites continues, too, though some runs have been discontinued due to lack of ridership.
Staff are keeping buildings secure and performing emergency maintenance. When the stay-at-home restrictions ease, crews will begin regular summer maintenance and repairs and resume "deep cleaning" to ensure that buildings are virus free.
Work continues on two new high school buildings scheduled to be ready this fall – the Garrett Morgan campus and John F. Kennedy. Construction is permitted under the governor's order.
ADVOCACY
CEO Gordon has been involved in advocacy as chairman of the Council of the Great City Schools, which represents 76 of the nation's largest urban school systems, and co-chair of the Ohio 8, made up of the superintendents and teacher union presidents from the state's urban districts.
The federal and state governments have provided districts with flexibility in areas such as testing and food programs, but only for this year. The CEO would like to see that flexibility is extended and that K-12 education receives more attention under any future federal stimulus packages.
He also has been calling for policymakers to treat the Internet like an essential utility, not a luxury.
FINANCE
Spending is being limited to essential purposes such as services already performed, payroll and utilities. The District is budgeting for both the fiscal year that begins July 1 and a long term that is complicated by questions about revenue and academic recovery.
ACADEMIC RECOVERY
Gordon says recovery from the emergency will be "multi-year" and that it is impractical to think school districts, especially those like CMSD, can just "flip a switch" and return to normal.
He said school districts' strategies could include camps to jump-start education before next school year, more remote learning or a move toward a curriculum that is narrower but also deeper. Whatever their course forward, school systems will have to adapt, he said.
"Schools have to be different," he told WTAM morning host Bill Willis during a guest spot. "And we have to be prepared for what that difference looks like."
For more information about CMSD learning opportunities and other resources, go to clevelandmetroschools.org/coronavirus.