Return to Headlines
CMSD Student Advisory Committee receives national attention
CMSD NEWS BUREAU
7/14/2020
Several CMSD students participated in a nation-wide webinar showcasing the District's Student Advisory Committee (SAC) and how it empowers students to use their voices to bring change.
The Collaborative for Academic, Social, and Emotional Learning (CASEL), a nonprofit that works to establish high-quality, evidence-based social and emotional learning as an essential part of preschool through high school, produced a five-part webinar series titled "SEL as a Lever for Equity." The Student Advisory Committee is part of CMSD's nationally renowned social and emotional learning program.
Friday, during the third CASEL Cares webinar, "Elevating Student Voice and Vision," CMSD CEO Eric Gordon noted in a recorded statement that student engagement is written into state law as a part of The Cleveland Plan, a customized blueprint for education reform in the city. The plan requires each of the District's high schools to appoint a delegation to the SAC to give students a say in their education.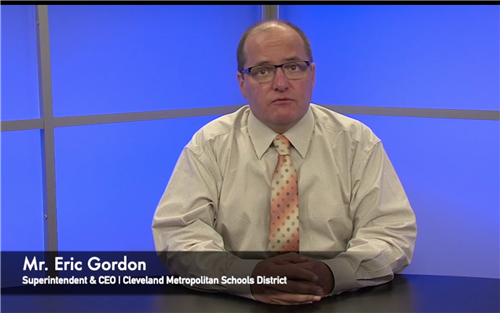 Four times during the academic year, more than 400 students meet to tackle issues at Gordon's request.
"Our students must make recommendations on strategies to improve teaching and learning," said Gordon. "Students work to encourage high achieving students to work with underperforming students to improve the school's academic culture. They've also come up with ways to improve the behavior of other students and reduce bullying."
Moderator Dr. Bloodine Barthelus, CASEL senior district advisor, asked Veronica, a Rhodes College and Career Academy senior, and Regina who will be a junior at MC²STEM High School, to name a time when their voice brought change.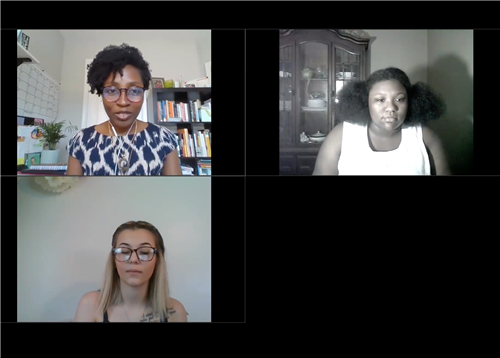 Regina talked about providing accurate information about the Say Yes to Education scholarship program that she learned about at one of the SAC meetings.
"Some kids had the wrong idea that it will cover everything when it comes to college (expenses)," Regina recalled. "But I was able to tell them this (the scholarship) is just (for tuition) so they should focus more on getting good grades and graduating."
Veronica says the SAC shows other students that they, too, can control their education.
"If I can do it, then you can," she said.
John Marshall School of Information Technology Principal Chelsey Cook Kohn spoke, in a taped segment, about how the Facing History and Ourselves teaching strategies are creating transformative social and emotional learning at her school.
"We are creating programmers," said Kohn, the founding principal at the first school in Ohio to focus on computer science. "But we are also trying to help them become empathic thinkers."
Barthelus said school leaders can help students become co-creators of their learning experience.
Zoey, a John Marshall School of Information Technology junior, said she and other students were able to change the dress code at their school.
"At one of the SAC meetings, I pulled Eric Gordon aside and asked him if we could change the dress code," said Zoey. "Mr. Gordon said if I can get my teachers and the principal to sign off on the new dress code, he would be willing to let us have a new dress code."
Another student said being on the SAC and having a safe space to voice his opinion has helped to boost his confidence.
"I have very bad anxiety," said Lavell, a senior at John Marshall IT. "But I think being able to be exposed to a larger group of people helped me face that anxiety head on. And that is when you are able to understand yourself more and unmask your character."
The fourth installment of the webinar series: Authentic Partnerships with Families and Communities will take place on July 17.