Return to Headlines
School nurses set up virtual clinics (Video)
CMSD NEWS BUREAU
10/5/2020
One part of being a school nurse is checking in on students and seeing how they are doing both physically and mentally. During a pandemic and remote learning, that might be more important than ever.
"It is not really conducive to be a school nurse at home," said Molly Kozlowski, nurse at Wilbur Wright and Euclid Park schools. "It was really hard not knowing what is going on, not being able to communicate with them."
Back in July, CMSD CEO Eric Gordon announced the District would be doing all remote learning for the first nine weeks of the school year to reduce the spread of the coronavirus.
While teachers learned how to use the online education platform Schoology to set up their virtual classrooms, school nurses were taking notes.
"We learned how to make bitmojis (a cartoon avatar)," Kozlowski said. "I thought it would be pretty easy to make a virtual classroom where my students can come and see information and videos."
Close to two dozen school nurses across the District have set up virtual clinics filled with health information and resources.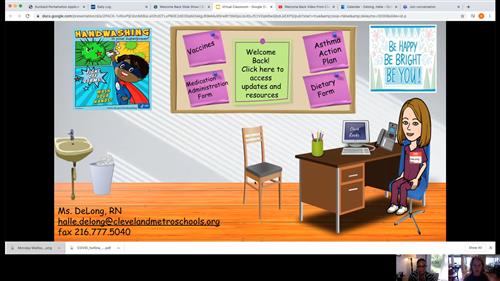 "I talk about vaccines," said Halle DeLong, a school nurse at Clark Elementary. "It is the beginning of the [school] year and we would be talking about this anyway."
Many of the clinics have information about the coronavirus, the importance of washing your hands and wearing a mask, and medical forms for parents and caregivers to fill out.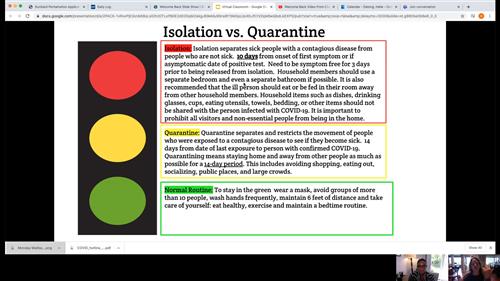 DeLong also tried to clear up any confusion between isolation and quarantine by using a stoplight.
"I thought, 'What is a good visual to help people?' " she said.
The nurses even have a place where students, staff and caregivers can sign up for office hours.
"Whatever we can do to help," said DeLong. "We are a great resource, and I want parents and students to know we are here."
Both nurses realize they play a unique role in a student's health and well being. And they want to be available during remote learning.
"It is great to see that we can adapt," said Kozlowski. "Just because they are not in the building doesn't mean it is not important to make sure they are healthy, safe and educated."