Return to Headlines
Global Studies students spend break volunteering in Puerto Rico
CMSD NEWS BUREAU
5/5/2022
For some, spring break means a time for rest and relaxation. But a group of Lincoln-West School of Global Studies students spent their break in Puerto Rico giving back to those who have been affected by natural disasters and COVID.
Rosa Morales, a Global Studies Spanish teacher, says the students built a gazebo at an elementary school, set up a hydroponic garden and built a playground at an orphanage.
"It was a moment for them to learn how the skills that they use in our schools could be used for helping others around the world, " Morales said.
Other projects included donating sporting equipment to a Boys & Girls Club and dropping off items at a senior center.
"We spent time with many at the senior center and talked to them and learned about their lives," said Morales. "We did a lot of crying. We played dominoes."
Students experienced the culture and got to see firsthand the devastation caused by Hurricane Maria, earthquakes and COVID.
"One of the principals was telling us they only go to school for four hours a day because of COVID," said Manju, a Global Studies senior. "And they don't have the opportunities that we have."
Manju says the trip taught her to appreciate what she has.
"It was great to see them happy because of our donations," she said.
This is Morales' second time taking students to Puerto Rico. She and a group of students traveled to Puerto Rico in 2018 after Hurricane Maria. A trip scheduled for 2019 was canceled due to the devastation left when earthquakes hit the island.
Throughout the school year, Morales and her students are finding ways to give back to people in Cleveland. But Morales said she wanted them to think about how they can make a difference.
"I wanted them to see people who are suffering from hunger and see that this is real," she said. "I also wanted them to think about what they can do as individuals."
This trip was a memorable learning experience. Some of the students were able to visit with relatives who live in Puerto Rico.
"I think it was a win for us because we were there to make a difference for the people, but I think they had an impact on us," said Brayan, a Global Studies senior.
"For me, it was an amazing experience," said Senter, a LWGS senior. "I think I learned a lot from Puerto Rico, and it was just amazing learning from the crews, Ms. Morales and everyone in this group."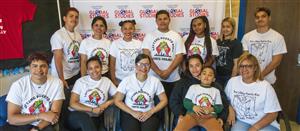 Morales says the students raised more than $30,000 to take the trip, thanks to the generous donations of community partners, including Esperanza, Cleveland Fresh and the Lake Erie Monsters.