Return to Headlines
CMSD students present research at Cleveland State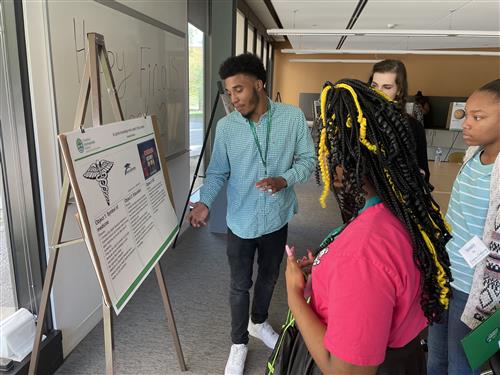 CMSD NEWS BUREAU
5/17/2022
University campuses frequently produce scholarly research, but the researchers typically are not high school students.
More than 250 students from three CMSD high schools presented findings Friday at Cleveland State University as part of the fifth annual Campus Conference: A Youth Research Symposium.
Ninth through 11th graders from Facing History New Tech. Lincoln-West Science & Health and the District's CSU-based Campus International High School explained their work at the university's Julka Hall.
Tenth and 11th graders from Campus International presented research projects tied to the school's International Baccalaureate curriculum. All other students shared the results of their Youth Participatory Action Research projects. In YPAR, youths engage in all steps of the research process around a topic they identify as important.
The research projects were made possible, in part, with support from the Martha Holden Jennings Foundation, the National Writing Project, John Legend's Show Me Campaign and the Institute of Education Sciences, the statistics, research and evaluation arm of the U.S. Department of Education.
Campus International students Victoria, Liam, Emma and Serenity were part of a YPAR team that studied the stress and anxiety fellow ninth graders experienced this school year as CMSD returned to in- person classes five days a week.
Current ninth graders had not had a full year of in-person instruction since they were in sixth grade. With the risk of COVID-19 still looming, students had trouble paying attention and staying on task.
Victoria said the team wants to meet with Campus International teachers to help them better understand the pandemic's lingering impact and provide support.
"We want to make the transition to high school as smooth as possible," she said.
Evan, a junior at Campus International, explored the question, "Who owns knowledge?" as part of his Theory of Knowledge class, a signature component of the International Baccalaureate curriculum. His conclusion was that all discoveries and beliefs stem from the work of others, so no one can claim ownership.
"We had to learn from somebody else," he said, making a case for being open to other perspectives. "The cycle keeps going and going."
Campus International launched YPAR as part of the curriculum for all ninth graders in 2017. The Martha Holden Jennings Foundation has helped support the growth of YPAR at the school.
In 2020, the Institute of Education Sciences awarded a four-year, $1.4 million grant to develop a "youth participatory action research intervention" in CMSD high schools. The goal of the initiative, led by researchers from CSU, the American Institutes for Research and CMSD was to improve academic achievement and engagement.
A fourth CMSD high school, the Rhodes College and Career Academy, has signed on, said Molly Buckley-Marudas, a Cleveland State associate professor who serves as a professor in residence at Campus International High School.
"We hope over time to extend that to as many schools as possible," she said.
In December, the Department of Education awarded $2.7 million to Adam Voight, director of CSU's Center for Urban Education, and Buckley-Marudas to expand youth research to 29 other districts in Northeast and Central Ohio.