Return to Headlines
Cavs, Goodyear to provide media centers with 3D printers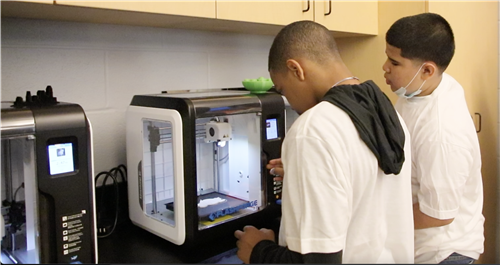 Students at Orchard STEM using the 3D printer in the Cavs-Goodyear STEM Lab.
CMSD NEWS BUREAU
7/20/2022
Printing three dimensional objects is becoming a standard tool in STEM education, helping students to develop critical skills.
And to make sure every CMSD student has access to a 3D printer, the Cleveland Cavaliers and Goodyear are buying 3D printers as a part of a half-million-dollar donation to the district.
Sarah Wallace, the CMSD Fab Lab coordinator, says this is about having equity across the District.
"Some schools have three 3D printers, some have 10 and some have none," she said. "This is going to allow every single student to have access to this technology."
Wallace adds there are approximately 65 schools that currently do not have a 3D printer.
Starting this fall, the devices will be delivered to school media centers in seven phases. The goal is to have a 3D printer in every school by the end of the 2023-24 school year.
Media specialists and the school's college, career and community coordinator will receive training to assist students and teachers.
Wallace says having a 3D printer, which will cost $500 each, will allow every student to learn valuable skills they will need for careers and jobs.
"This is about thinking in multi-dimensions," she said. "Students will learn to think critically and problem solve at the same time, coming up with new ideas for protypes."
The printers will be the last purchase made from the Cavs-Goodyear donation. The funds also paid for refurbishing the Fab Lab at the East Professional Center in 2019 and new STEM labs that opened at Hannah Gibbons STEM and Orchard STEM school this past school year.
Cavs-Goodyear STEM labs will open this fall at the Stonebrook-White Montessori Campus and Valley View Boys' Leadership Academy.