Return to Headlines
Pipeline program gives CMSD students glimpse of teaching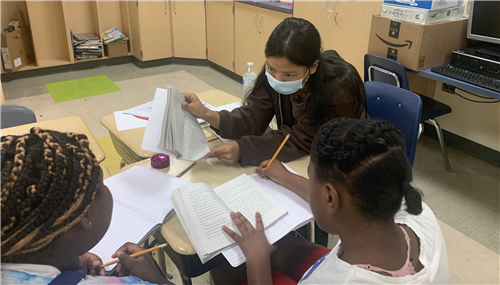 CMSD NEWS BUREAU
7/21/2022
It was a busy morning in Sheryl Richardson's third-grade class at George Washington Carver Elementary School. Richardson was multi-tasking, explaining math and scientific equations.
Lucky for her, she had help from Ismarika, a 10th grader from Bard High School Early College and one of three CMSD high school students participating in an education pipeline program.
The high school students, who have expressed a desire to be teachers, are assigned to work with fourth and fifth graders at Carver from 8:30 a.m. to 10 a.m. during the CMSD Summer Learning Experience.
A collaboration between CMSD and Cleveland State University allows the students to spend the second half of their day at CSU, participating in meetings and being mentored by education professors and students from the College of Education and Public Affairs.
"CSU has a grant through the Ohio Deans Compact to work with CMSD and Tri-C to increase the number of teachers of color in Cleveland," said Debbie K. Jackson, chair and professor in CSU's Teacher Education Department. "This (the three students' work at Carver) is a pilot program within the grant."
Faculty members and students in CSU's education department talk to the CMSD students about CSU's education program and guide them through obstacles that educators face.
Jackson said public education is at a critical point. Several years ago, there was a mass exodus of teachers due to retirements, and then the pandemic hit. Districts are constantly looking for teachers, even offering signing bonuses. Youth Opportunities Unlimited provides a stipend for the CMSD high school students working at Carver.
Kiera, a fourth grader, huddled with Ismarika while getting help with math, reading, and writing. "It's fun having her here," Kiera said.
"It is more like an experience teaching these classes," Ismarika said. "I wanted to see if it's what I want to do in the future, what I would do interacting if I was a teacher. Some kids don't comprehend well what they read. So, I would try and use a visual approach like acting it out."
Clay-Von, a 10th grader at Ginn Academy, thinks it's important that kids see teachers who reflect them.
"I want to be either a teacher or a lawyer," he said. "I'm a tall slim black male. I want kids to see that not all black males that look like me are NBA players. I wanted to be in a classroom to inspire them to do something besides athletics. If they wanted to play ball as a profession, that's cool, but I want to give them this sense that we can do anything."
Cynsear, a 10th grader at Bard, said her ninth-grade history teacher's example inspired her to explore teaching.
"I found it interesting how he inspired other kids to want to learn, and it's something I would want to do in the future," she said. "I just really liked his teaching style. History can be a boring class, you know, but his class wasn't really like that. It was learning how that particular time impacts us today and how we can learn from it."
Ismarika said the CSU professors have been approachable when she has needed to ask questions. At Carver, she has learned from observing Richardson's teaching methods.
Cynsear gave the pipeline program an enthusiastic thumbs-up.
"I like it, especially the way they provide us with the freedom to walk around the department and meet CSU education students and professors," she said. "Doing this, you know you are getting the best advice on becoming a teacher. And the Carver teachers have been accommodating from Day One. "
Clay-Von said he has benefitted from his experiences at both Carver and CSU.
"My first day at CSU was spent learning how to network with faculty members," he said. "They were so welcoming, and it made for such a great experience.
"When I'm here at Carver, the kids treat me like I'm one of them," he said. "They tend to engage with the three of us well by listening to the lessons we are presenting. Having the students' trust allows me to communicate my message to them. These partnerships are essential. It wasn't until high school that I had a teacher who I felt was relatable."