Return to Headlines
CMSD students are getting involved in the election process
CMSD NEWS BUREAU
11/4/2022
While many students are too young to vote, that has not stopped them from encouraging others to go to the polls on Nov. 8.
Students involved in both the Junior Civics 2.0 and Civics 2.0 programs are calling Cleveland residents to encourage them to cast their ballots.
High school students also registered 300 people to vote, and some have been trained to be poll workers on Election Day. Those who are of voting age went to the Cuyahoga Board of Elections in late October to vote early. There are 23 high schools participating in the second year of CMSD's Civics 2.0, which is part of CMSD's new Vision for Learning. Students not only learn civics but also live civics. And new this academic year, eighth graders from 11 K-8 schools are participating in their own version.
Gayle Gadison the District's curriculum and instruction manager for social studies, says it is important to let students know that even at an early age they have the power to make a difference.
"I wanted eighth graders to get involved this year because I saw this as a popular pipeline to high school," Gadison said. "That way, when they go to high school, they will have already experience and some aspects of civic engagement."
During this election cycle, eighth graders participated in a Defending Democracy Immersion Day hosted by the Cleveland Bar Association. Students heard from Cleveland City Council members Stephanie Howse (Ward 7) and Kevin Starr (Ward 5) as well as Cleveland Municipal Judge Lauren Moore.
Many students were empowered to share what they learned with their families. Sha'Nya, an eighth grader at Denison PreK-8 school explained to her mother how voting can make a difference.
"I told my mom that a lot of people fought for our right to vote," Sha'Nya said. "And a lot of things that my mom complains about could be changed if she voted. It really does matter."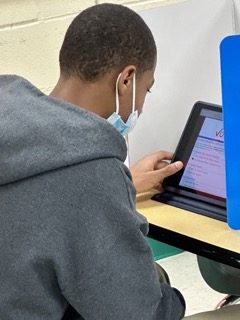 Mock elections were held for the middle school students at the participating Junior Civic 2.0 schools. They voted for the actual candidates running during this election. Students even made videos to encourage their classmates to vote.
"I thought it was good because we got to experience what other people go through to vote," said Ahlaniah, who also attends Denison. "We did research to figure out how these candidates were going to improve our economy, among other issues. It was all that good stuff.
Mock Election Videos :