Return to Headlines
New Executive Grille opens with VIP Event (Video, Photo Gallery)
CMSD NEWS BUREAU
2/8/23
Many braved single digit temperatures last Friday to get a sneak peek of the newly constructed Executive Grille inside East Technical High School.
After the ribbon cutting, just outside the restaurant's front doors, guests filed in one by one with amazed looks on their faces. One of the guests was Cleveland Board of Education Chair, Anne Bingham, who barely contained her excitement.
"It looks absolutely awesome. I couldn't believe it," she said.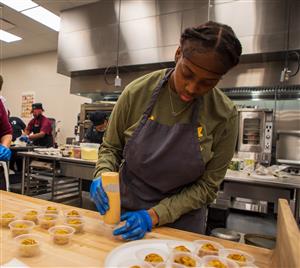 "I like it. It is spacious. I am still trying to find where items are placed," said Emya, a Cleveland Culinary Arts student.
During the VIP event, guests had a chance to tour the student-run restaurant and to watch the budding chefs in action.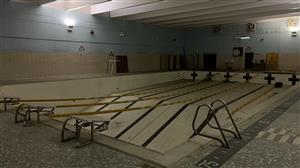 The Executive Grille restaurant and learning spaces, which include a demonstration kitchen, sit atop the school's old pool.
Leroy Carter graduated from East Tech in 1988. He can't believe he can now enjoy a space he once dreaded given his fear of swimming.
"I am standing in the deep end of the Olympic-sized swimming pool," Carter said. "Now to be standing in the deep end and being able to enjoy food, makes me happy."
At the reception, a plaque was unveiled next to a booth permanently reserved for CEO Eric Gordon, a fitting tribute for his years of service to CMSD. Gordon announced plans in September to step down as CEO at the end of the school year.
The Executive Grille's grand opening to the public will be on Wednesday, February 15th and Thursday, February 16th from 11am to 1:30pm. Please call 216-838-CHEF for reservations.