Return to Headlines
U.S. Department of Ed Deputy Sec. Visits CMSD (Video)
CMSD NEWS BUREAU
2/24/23
U.S. Department of Education Deputy Secretary Cindy Marten visited the Cleveland Metropolitan School District on Feb. 23rd and Feb. 24th as part of the Department of Education's "Raise the Bar: Lead the World" tour.
The goals of the federal initiative, which prompted the Deputy Secretary's visit, are to promote academic excellence and prepare students for global competitiveness.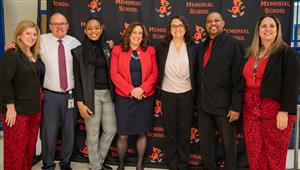 Deputy Secretary Marten says CMSD, her fourth stop on a eight-district tour, was chosen because of support programs the District has in place that not only help students excel academically, but also prepare them for careers in Cleveland and beyond.
"Cleveland is setting the bar high," said Deputy Secretary Marten. "We came to Cleveland to observe what it looks like to see students performing academically complex tasks in actual practice," she said.
During her visit, Marten toured Memorial PreK-8 School and participated in a demonstration of learning exercise, CMSD's approach to engaging students more deeply and giving them more voice in their studies. She also toured Cleveland High School for Digital Arts and Davis Aerospace & Maritime High School.
Thursday afternoon's visit was highlighted by Marten leading three round table discussions with students, parents, and teachers.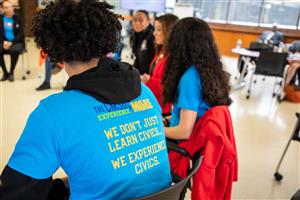 Students who participate in Civics 2.0, the District's civics program, talked about how they are committed to bringing more awareness to gun violence prevention and using their voices to create calls for action.
"We can do a lot and as kids we are very powerful," Darryelle, a student at Cleveland Metropolitan Remote School told the Deputy Secretary.
Mothers who serve as parent ambassadors shared stories about how their presence in the schools builds trust with other caregivers and educators.
"We all truly care about the children," one parent ambassador shared. "I feel it is a little bit easier for parents to come and talk to me and not feel judged."
Teachers talked about the resources the district is providing to help them give better instruction to students.
Deputy Secretary Marten says the information she gathered from the CMSD visit will be added to a U.S. Department of Education resource guide designed for other districts to consult for best practices.
Congresswoman Rep. Shontel Brown, and representatives from Mayor Justin Bibb's office joined Marten for Thursday's leg of the visit. And on Friday morning, Marten hosted a roundtable discussion at the Executive Grille, which was attended by CMSD CEO Eric Gordon, Cleveland Mayor Justin Bibb, members of the CMSD Board of Education, and school superintendents from all over Ohio.