Return to Headlines
Summer Learning Experience Ends with Demonstrations of Learning (Video)
CMSD NEWS BUREAU
07/26/23
Four rising fifth graders recently stood together in front of a Euclid Park PreK-8 School classroom to talk about illustrations they drew for their book titled "Stand Strong Against Cyberbullying."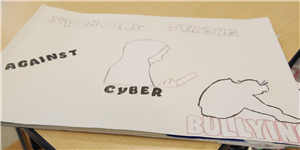 Each student took turns explaining how 'Vicious Victoria' wrote mean comments about Attractive Ashely as she traveled to Florida to have fun with her friends. They read in unison a fictitious social media post from Ashley "making memories with my bestie."
At the bottom of the page, Vicious Victoria responded with "meh." "That means she doesn't like it," said Malcom.
At the end of the book, the four students drew Ashely on top of a building. The scene is a dramatic illustration of the emotional and mental health challenge Ashely faced as a result of being bullied. "We left it open so you can decide if she jumps or not after being bullied," said Malcom.
This book hits close to home for Amarea. She says her little sister was bullied last year. "So, I had to stick up for her and it just scares me," Amarea said, while fighting back tears. Her teacher gave her a hug.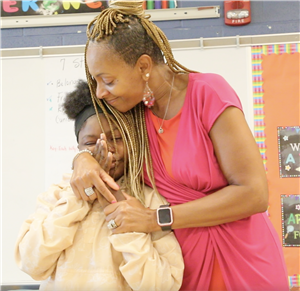 Amarea and her teacher
"This book is going to help so many other young adults just like you," said her teacher. "You should be very proud of yourself that you are courageous enough to write about this and create this book to help somebody else."
This book, "Standing Strong Against Cyberbullying," is just one of many created during the Summer Learning Experience (SLE) in the Stories without Words Enrichment project.
"The summer learning experience is the best time for students to do projects that interest them," said Kameron Terrell, site coordinator at Camps International. "They get a say so in what they want to do. How they want to do it and they can take ownership of their project."
Students presented their finished projects to a group of judges made up of community partners during the last week of SLE, which concluded on Friday, July 21st.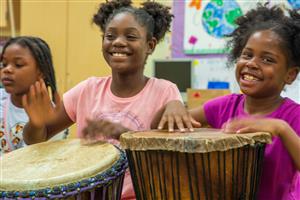 Students learning to play the drums at George Washington Carver PreK-8 School
"Coming together to celebrate learning is a way to celebrate our community," said Jeffery Allen, CMSD executive director of arts. "We come together as a community to make sure our young people know what they do matters. That their voice matter."
Other SLE initiatives included a STEM project, where students created field day activities and a humanities project where students learned how to help small businesses with advertising. Students also had the opportunity to participate in marching bands, vocal performances, musical theatre and more. In many instances, this was the students' first time picking up an instrument or acting.
"We have had the opportunity to see over 100 scholars demonstrate their learning in music, vocal performance, cheerleading and musical theatre," said Allen.
Another group of high school students learned how to be philanthropists and write grants. These are students who have been entrusted with helping determine how to fund projects out of the $20 million no-strings attached gift given to CMSD last year by philanthropist MacKenzie Scott. Each of the demonstrations of learning are designed to be a way for students to learn soft skills and take risks in a safe environment.
"Students have to work together, and they have to collaborate and do their part for the project to come together," said Allen. Those are life skills. If you can perform before a group of people, you can do anything and that will carry on through the school year and the rest of their lives."
Close to 6,000 students signed up to participate in the third year of CMSD's Summer Learning Experience.