Return to Headlines
Say Yes to a Summer Learning Experience Steeped in Mac and Cheese!
CMSD NEWS BUREAU
07/27/23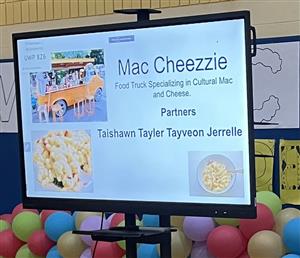 Some say that macaroni and cheese is a side dish, others claim it's a stand-alone meal. If you really want a definitive answer to this culinary riddle, no need to look any further than the recent research of Taishawn and Tayler, 5th grade participants of the CMSD Summer Learning Experience. Their conclusion: when it comes to mac and cheese, it all boils down to geography. It depends on where you come from.
Taking a cultural approach to their entrepreneurial efforts of creating a small business and networking with CMDS, Mac Cheezzie, a local food truck, recently benefited from the research of the young CMSD scholars. The startup food truck is working on creating a niche market by advancing a greater understanding of the history of mac and cheese, and that's where the CMSD 5th grade research team of Taishawn and Tayler come to play.
The up-and-coming student entrepreneurs worked together to explore how diverse ethnicities prepare mac and cheese dishes differently. The French, for instance, favor adding truffled butter and mozzarella cheese to the dish. Americans, on the other hand, make the dish with heavy cream and American cheese.
"Mac and cheese was first created in 1769, in Europe by a black man named James Hemmings," Taishawn informed the audience. "He was a slave of Thomas Jefferson, and when people ate the food in the south (USA), they only ate it on the weekends and during the holidays because it was so good and Thomas Jefferson saw it as a celebration food."
So how did two 5th graders turn mac and cheese into an interesting demonstration of learning during the Summer Learning Experience? That's easy. They connect history with people's taste buds.
"We just wanted to talk about something that everybody would like, and we think everybody likes mac and cheese," said Taishawn.