Return to Headlines
A day of firsts across the district as students head back to school (Video)
CMSD NEWS BUREAU
08/22/23
For most students, the first day of school brings some nervous feelings about what to wear and finding new friends.
This year, Cleveland Metropolitan School District CEO, Dr. Warren Morgan says he also was full of nerves the night before the big day.
"I could hardly sleep last night," said Dr. Morgan, who officially became the District CEO on July 24th. "I was up late last night and up early this morning."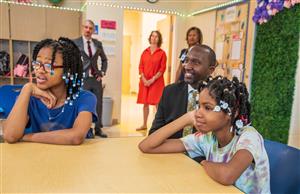 Dr. Warren Morgon, CMSD CEO, visits Sunbeam PreK-8 School on the first day of school.
This first day of school was Dr. Morgan's first as CEO and he wasted no time stopping by several schools including East Tech High School and John Marshall High School Campus, as well as Almira and Sunbeam PreK-8 Schools.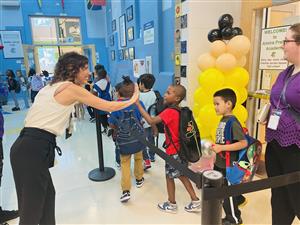 Educators at Almira PreK-8 School welcome students back with high-fives
From what I have seen our buildings are ready and so are our scholars, there is just so much energy," said Dr. Morgan. "There is so much potential, and you can see that potential in the children's eyes."
Across the district, there were other firsts happening.
For the first time, William Raney Harper, which opened in 2018 as a PreK-third grade school, will now have students in every grade including eighth. This is also the first year the school will have the distinction of being an International Baccalaureate Primary Years Programme Certified school.
Dr. Ajayi Monell, William Rainey Harper principal, says his goal is to teach his students to become global thinkers.
"We want to make sure we are having our scholars be internationally minded by focusing on the IB (International Baccalaureate) model so they can go into the world and be world changers," said Monell.
Change is also on the mind of Dr. Morgan, as he conducts his Listening and Learning Tour to better understand what improvements need to be made as well as to understand what is currently working in the district from the viewpoint of staff, students, and families.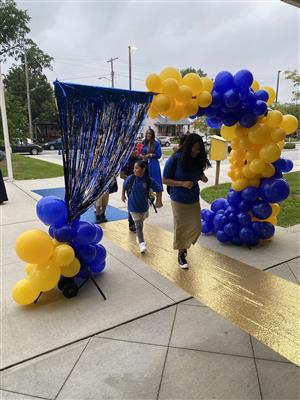 Students at William Rainey Harper PreK-8 school walk the blue and gold carpet as they enter the building for a new academic year.
"I want to hear what the community wants us to collectively do to move the district forward," said Dr. Morgan. "I may lead the district, but it is not my district alone, this is our district collectively."
For a complete list of the Listening and Learning Tour dates and locations click here..