Return to Headlines
Students return from trip of a lifetime helping other children (Video)
CMSD News Bureau
8/23/23
During their recent 10-day trip to Ecuador, Davis Aerospace and Maritime High School 2023 valedictorian Gabriel Leonard and eleventh grader Yariselle met Samantha for the first time.
Samantha, an Ecuadorian girl who lost her arms in a bus accident. Photo credit to Angelo Di Fusco
Samantha is the Ecuadorian girl who inspired the FIRST Robotics team members who are enrolled at the school to design and make a 3D printed prosthetic arm. With the help of IMAHelps, a medical non-profit that organizes humanitarian missions to underserved countries, the first arm was delivered last year. During the August trip she was fitted for a second arm.
Gabe says before traveling to Ecuador they had talked to Samantha several times over Zoom. But the chance to meet her in person makes their work have meaning.
"This is a real person that we are helping," said Gabriel. "We are able to see what we are doing come to life."
"We are able to make her dream happen and that is very touching," said Yariselle.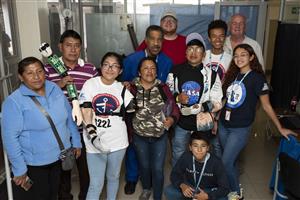 Samantha with the students from Davis Aerospace and Maritime High School.
Daniella, also an eleventh grader at Davis, was unable to travel to Ecuador but she is the one that convinced her robotic teammates to initially help Samantha, who lost both her arms in a bus accident. On this trip, they not only helped Samantha but six other children in need of prosthetics as well.
Daniella, who is from Ecuador, says she is touched that her classmates helped her compatriots.
"It made me cry," said Daniella. "I saw my classmates and the little kids with prosthetics making hearts with their hands. It meant a lot because the work they were doing came from the heart."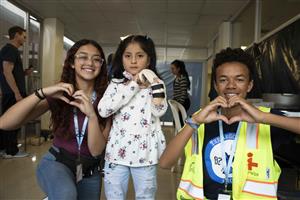 Yariselle and Gabriel with a young girl who received a prosthetic hand.
While in Ecuador, JonDarr Bradshaw, the Great Lakes Science Center Community Engagement Coordinator and STEM Education Consultant, says the students also assisted volunteer medical staff with IMAHelps seeing more than 4,000 patients seeking medical and dental care.
"The students had all this compassion, and they had all this empathy," said Bradshaw. "They really made a difference. Not only did this change the lives of the patients we saw, but also changed the lives of these students."
This trip of a lifetime, has made all three of these students think about ways they can continue to help others.
"It humbles you," said Yariselle. "I want to be a pilot, but this experience is making me think about going into the medical field."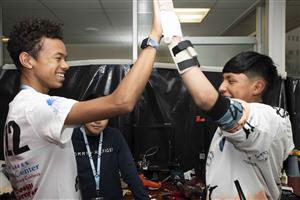 Gabriel with a. young man who received a prosthetic hand.
The robotics team with the help of Great Lakes Science Center and Argonaut, which works in partnership with Davis Aerospace and Maritime High School, came home with 15 additional requests to make prosthetics for those in need.
Bradshaw says IMAHelps has invited CMSD students to go on another mission next summer.