Return to Headlines
U.S. Census Director visits Wade Park School (Video)
CMSD NEWS BUREAU
2/21/2020
U.S. Census Bureau Director Steven Dillingham teamed up with Wade Park School students on Friday to emphasize the importance of everyone being counted in the 2020 Census.
The Cleveland area has been one the most undercounted for young children in the nation. That can reduce the amount of funding that CMSD and other agencies receive from programs based on population.
Dillingham read a book, "Everyone Counts," to students in kindergarten and third grade.
"We count who lives behind your front door, even cousins or uncles up on the third floor," he read.
Earlier, the children sang the 2020 Census song, also titled "Everyone Counts." The lyrics read, in part, "Everyone counts in the U.S of A, everyone counts in their own special way," and "Counting is easy. Counting is fun. Everyone counts, and you count as one."
Dillingham also will appear Saturday at a community kickoff for the Census at the Great Lakes Science Center. Wade Park students are scheduled to perform again.
The Census is emphasizing that the census can be completed simply online, by phone or by mail and that responses are anonymous, with personal information protected by law.
CMSD is promoting the Census with yard signs, buttons, posters, social media posts and information that can be found at clevelandmetroschools.org/2020census.
Dillingham told the children to let their caregivers know how important it is to count all the children living in the house.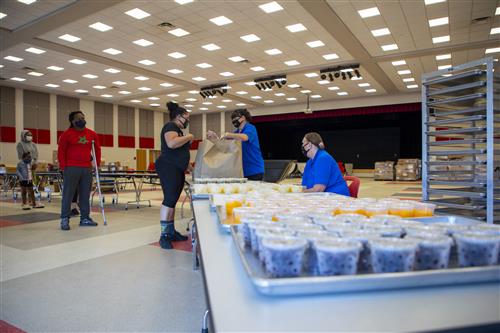 "We have complex families," he said in an interview. "We have some children living with families that may not be theirs or their biological parent for a period of time. But it is still important that we get people counted, whether they're living with a grandparent or an aunt or a friend."