Return to Headlines
Parent Breakfast Meeting at Artemus Ward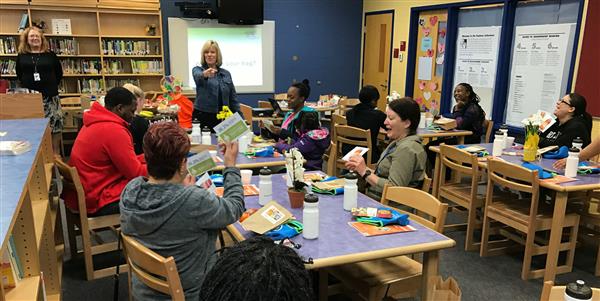 (2017, February 24) "Be honest do you eat Breakfast every day? According to national studies one in three students do not eat breakfast" says Karen Bakies a Registrar Dietitian for American Dairy Association Mideast during a Parent Breakfast Meeting at Artemus Ward School. Breakfast is the first thing all students can do every day to prepare their minds to learn. At CMSD school breakfast is free for all students. Additionally, school breakfast meets the USDA standards for nutrient-rich foods with low sodium, low sugar, and low fat. School breakfasts offered each day contain low-fat milk, whole grain items, lean proteins and a fruit or vegetable selection.
During a Parent Breakfast Meeting at Artemus Ward School, Bakies presented the scientific studies proving how breakfast energizes the brain and prepares students for learning. Eating breakfast calms the part of the brain that processes emotions, while at the same time jump starts the logical thought processes of the brain, thus preparing a child to learn. Children who eat breakfast are organized, thoughtful and most importantly focused.
To find out what on your child's school breakfast menu, visit the Food & Child Nutrition Service page and select School Menu. Copies of school menus are also located in each school's cafeteria. Breakfast is essential for your child success. Even if a child has breakfast at home and then another breakfast at school, it will not increase their BMI (Body Mass Index). In fact, studies show students who eat breakfast every day, and yes even two breakfasts, have lower BMI's than those who do not eat breakfast at all. Send your child to school on time to enjoy school breakfast with their friends, it the first thing you can do to every day to prepare your child for academic success.