Return to Headlines
East Tech graduation rate soars to 72.9 percent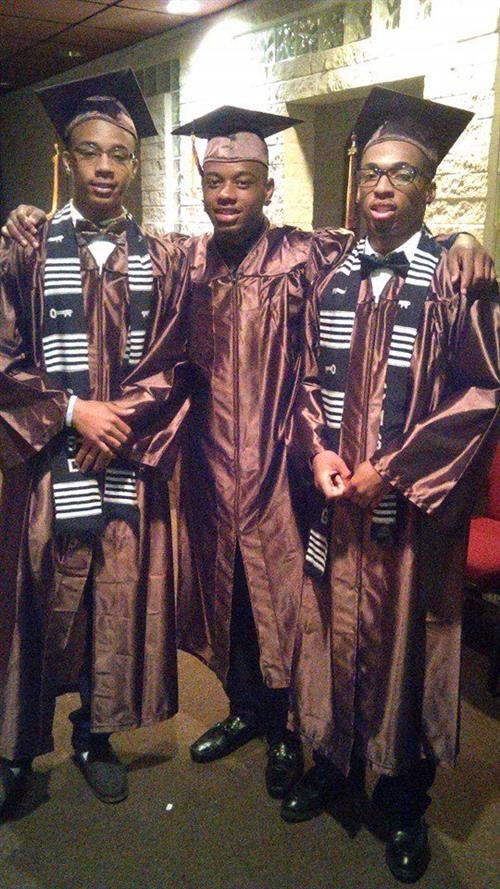 CMSD NEWS BUREAU
1/14/2016
When the state released graduation data Thursday, CMSD's rate climbed and reached yet a new high. But the number at one of the District's high schools took off like a rocket.
CMSD's overall rate rose from 64.3 percent to 65.9 percent and has now increased nearly 14 percentage points since 2011. The District expects an adjustment to 66 percent when data is removed for five students who should not have been counted.
The news was even better at East Tech, where the four-year graduation rate soared from a dismal 46 percent to 72.9 percent in just one year. The new numbers are for the class of 2013-14, the last year for which data is available.
The school's spectacular ascent is the latest in
a streak of good news
and offers more proof that
The Cleveland Plan
, a state-approved blueprint for education reform in the city, is working.
East Tech is one of CMSD's Investment Schools, a group that has received intensive intervention to raise low performance, expand community engagement and improve the culture; Co-Principals Temujin Taylor and Paul Hoover also have made use of the broad authority individual schools have been given over spending, scheduling and programming.
"We know the building better than anyone," Hoover said. "Having the flexibility to align resources with need has been powerful for us.
Taylor and Hoover say preliminary data indicates that the graduation rate is poised to remain steady or continue growing over the next two years at East Tech, which is located at East 55th Street and Quincy Avenue in one of Cleveland's poorest neighborhoods.
They credit a number of factors for the success:
The school mixes special-education students with other peers in core classes and assigns two teachers to each of those classrooms. The co-principals say the model raises the bar for special-education students, who account for nearly 40 percent of East Tech's enrollment.
Volunteers from the service group City Year provide individual and small-group instruction to ninth- and 10th-graders during and outside of class time. The Friendly Inn Settlement, a neighborhood agency that coordinates "wraparound" community services for the school, also tutors students at its offices.
East Tech employs a strategy known as "no-nonsense nurturing" that corrects misconduct by directing students' attention to peers who demonstrate good behavior.
The school also has what is called a "level system" that rewards good behavior with "Scarab Bucks" and penalizes bad behavior with demerits and progressive discipline. Students can use "Scarab Bucks" to buy school gear and free or discount admission to sporting and other school events.
All students who score below grade level in reading or math are scheduled for a mandatory daily "intervention period" that will provide them with extra instruction. Students who get on track or pass their state graduation tests earn the right to take elective courses such as urban agriculture, culinary arts, band or JROTC.
Teachers use an instructional strategy that calls for them to serve as guides instead of lecturers and lets students apply skills to demonstrate they know content. Three coaches help teachers to master the practice.
Taylor and Hoover also credit the co-principal model of leadership. They have shared the school's administrative duties for three years, with different parts of the operation allocated to each.
"It frees us to do a lot of things that we would be stretched to do," Taylor said.
Taylor and Hoover welcome the help of eight City Year volunteers who assist students considered to be at risk of failing. The volunteers also work with the students on their behavior, helping them to set goals and develop a plan for reaching those goals.
"It's mostly a control thing," team leader Amelia Lord said. " 'When I control myself and my behavior, the results will show in my grades and my test scores.' "
Junior Edgar Hoyle said East Tech has transformed into a "whole different school" since he was in the ninth grade. He singled out a teaching staff that he praises as caring and attentive.
Jacqueline Black teaches Senior Seminar, a course that helps students with skills such as drafting resumes and writing scholarship essays and features speakers that Black says come "from all walks of life." Black, who also teaches a teen parenting course, said the faculty has reached the students by building relationships and trust.
"This is a family," she said. "When you are in a family situation and you encourage kids, it makes all the difference.
"You have people who are constantly saying, 'How are you doing?' and 'Why aren't you doing this?' The kids like that. They like the support. It gives them a sense of confidence and willingness to take risks they ordinarily wouldn't take."
Hoover said students love earning the rewards available to them under the level system. Junior Celica Ayala, who is a member of Student Council, said the system has clearly made a difference.
"That has helped to keep people in the classroom and learning," said Celica, who plans to attend college and study business and criminal justice, perhaps as a step toward law school. "Everyone's in class, doing what they're supposed to do. That is what is expected."