Return to Headlines
School choice season is under way

CMSD NEWS BUREAU
1/23/2017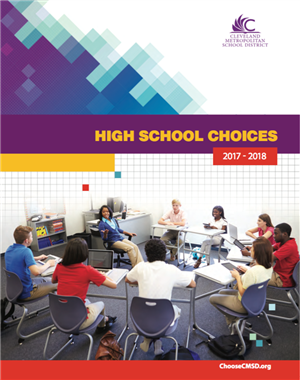 It's school-choice season, the time of year when families can exercise their right to decide which CMSD schools their children will attend. That right is particularly important for eighth-graders who are weighing the critical decision of where to go to high school.
The District allows students to attend any school, provided there is room and, in a few cases, they meet admissions criteria. Through March 13 -- or Feb. 13 for most of the schools with admissions criteria -- families can submit choices by going to an online open-enrollment portal --
choosecmsd.org
.
The District offers more high school options than ever, and more students are exercising their right to choose. For the current school year, 3,644 students submitted selections, double the number from two years earlier. Most were eighth-graders preparing for high school. Choices were entered for seven out of 10 eighth-graders.

Current eighth-graders can explore their options with the help of the District's High School Choice Book, as well as school videos accessible through the enrollment portal.
Students and their families also can browse school booths at the annual High School Choice Fair, scheduled from 5 to 7 p.m. Wednesday, Feb. 1 at Cleveland State University's Wolstein Center, 2000 Prospect Ave. Free food will be served and free parking will be available in a CSU parking garage at East 21st Street and Prospect Avenue.
CMSD started its high school "portfolio" in 2006 with three small schools at the John Hay Campus. The assortment later expanded to include models like MC²STEM, with campuses at the Great Lakes Science Center, GE Lighting and Cleveland State, and Ginn Academy, the only all-male public school in the state.
This school year, CMSD added two small models that share Lincoln-West High School: The Lincoln-West School of Science and Health and the Lincoln-West School of Global Studies. The School of Science and Health conducts a portion of its classes inside MetroHealth Hospital and is believed to be the only high school in the country occupying space on a hospital campus.
A record six new options are available for the coming school year. The schools, which will open with ninth-graders, include:
•
Davis Aerospace and Maritime High School
.
• Campus International High School, which will use the International Baccalaureate model of education and be located at Cleveland State University.
• Bard High School Early College Cleveland East Campus, located at John Adams. The school, the second in Cleveland to be affiliated with Bard College of New York, will allow students to earn both a high school diploma and college associate's degree – tuition free -- in four years.
• John Adams College and Career Academy.
• Rhodes School of Environmental Studies, at James Ford Rhodes High School.
• Rhodes College and Career Academy.
Students can continue to make choices after March 13 but may not be guaranteed their first preferences. Demand was so strong at Max S. Hayes High School and MC²STEM for this school year, the District had to fill ninth-grade seats at those schools by lottery and put other students on waiting lists. If lotteries are necessary this year, the results will be announced March 24.