Return to Headlines
Facing History New Tech student to launch bike sharing program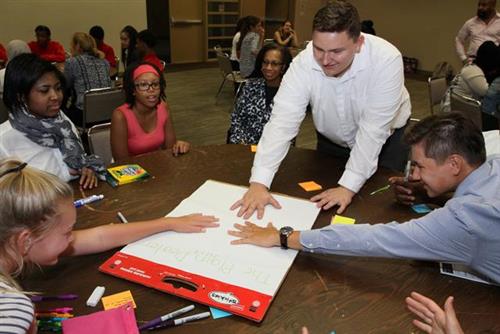 CMSD NEWS BUREAU
1/24/2017
As bike sharing gains momentum across the country, one CMSD student is preparing to launch a similar program that aims to give Cleveland's children a form of safe and reliable transportation.
Facing History New Tech High School 10th-grader Randy King recently received a $5,000 grant for his project -- the Cleveland Bike Library -- and has secured support from two bicycling advocacy organizations in the city. The grant from the Cleveland Climate Action Fund's Cleveland Neighborhood Progress Climate Resilience Initiative will support the pilot bike share program at Benjamin Franklin School, where students in the sixth through eighth grades will have access to about 25 high-quality, refurbished bicycles to use as transportation to and from school and for recreation.
King plans to use the grant money to acquire bike storage, locks, helmets and bells. The
Ohio City Bike Co-Op
will provide the bikes, according to executive director Jim Sheehan. The co-op also offered to train students in traffic safety and basic bike maintenance.
The program is set to launch in March.
Sheehan, whose nonprofit is a longtime partner of the District, said he is impressed with King's motivation and excited to be a partner.
"Randy understands what our priorities are, which is to encourage people to ride safely and responsibly and to represent cyclists on the road," Sheehan said. "In this case, it's really important because the children would be riding bikes to and from school."
The project also has backing from Bike Cleveland, which is acting as King's fiscal agent to help him secure and manage funding. Bike Cleveland is a well-established nonprofit that advocates for bicyclists in Greater Cleveland by hosting community events, funding projects, donating equipment and advocating for legislation that protects cyclists.
Bike Cleveland Executive Director Jacob VanSickle said King's project aligns with Bike Cleveland's goal of persuading more Clevelanders, especially young people, to join the growing ranks of bicyclists in the city.
"This is going to be a great way to give students access to working bikes to get to and from school and to ride during recess, but also to educate them on how to bike safely," VanSickle said. "Having a young person like Randy come up with a cool project like this is great, and we're excited to help him implement it."
Part of King's inspiration came from University Hospitals' new UH Bikes initiative -- a bike-sharing program for residents across Cuyahoga County. In September, King attended the Cleveland Foundation's 2016 Sustainable Cleveland Summit, which marked the launch of UH Bikes. That program requires users to be 19 years old for a membership or 16 years old to ride with a parent's permission, so King started thinking about how he could launch a similar program aimed at children.
At the same time, King was trying to address some of the challenges faced by children in his neighborhood, including safety risks of walking, insufficient physical activity and a lack of reliable transportation. And while the District provides transportation options including yellow school buses and RTA passes, King said some of his classmates live too far from their bus stop and end up missing the bus or being late to school.
King thinks a school-based bike share program could be the solution to all of these problems.
"I believe that children in the whole city have these kinds of problems," King said. "So I wanted to help with that and also improve school attendance by giving kids a way to get to school besides walking and bus passes."
Students will be able to use the bikes during recess and sign them out to take them home, King said.
King plans to expand the program when he secures more funding, starting with a launch at Facing History New Tech High School and eventually all CMSD schools. He also plans to apply for nonprofit status.
King said the last several months have been a whirlwind of meeting new people, learning advanced skills like grant writing and getting a firsthand lesson in entrepreneurship. He estimates he spends about two hours a day working on this project, on top of his school work and other extracurricular activities.
King has found two mentors who have helped him get the bike library idea off the ground. One of them is Calley Mersmann, director for the District's Safe Routes to School program, which works to make traveling to and from school safer for students. Mersmann said she is helping King with some of the more technical aspects of his project, including insurance and legal issues.
He has also received guidance from Indigo Bishop, who works with ioby, a crowd-funding site for neighborhood-based projects like King's. King met and connected with Bishop at the Sustainable Cleveland Summit where his idea was first sparked. King used ioby as his initial source of fundraising and has
an ongoing campaign on the site.
King said he wants to be a role model for other students who have untapped entrepreneurial spirit and encourage them to make their own dreams a reality.
"I'm only 16," King said. "This started as an idea, and it was not guaranteed to work. But I want other kids to know that with some hard work and some outside support, you can really do anything."