Return to Headlines
Cleveland Browns Foundation provides students with Special Teams Packages
CMSD NEWS BUREAU
1/11/2016
The Cleveland Browns Foundation is continuing its commitment to CMSD's attendance campaign with the launch of an initiative that provides uniforms and other necessities to students in need.
The Special Teams Package program kicked off this week with the first batch of deliveries to schools across the city. It's expected to benefit as many as 2,000 students.
The Browns are the lead partner in CMSD's ongoing "Get 2 School, You Can Make It!" campaign to reduce chronic absenteeism and improve attendance. In November, the foundation announced a $100,000 grant to Shoes and Clothes for Kids, which is supplying the school uniforms and other clothing for the packages. Each package contains two uniforms, a set of casual clothes, underwear, socks, school supplies and a gift card for shoes.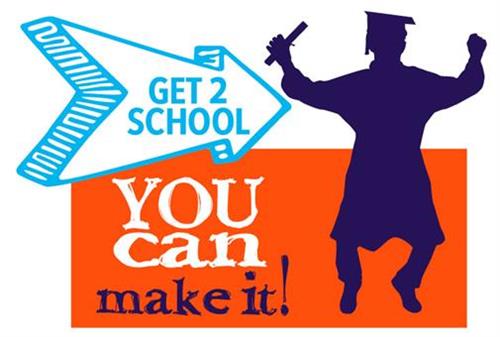 The packages also contain a pledge card for parents and caregivers to sign and keep as a symbolic commitment to helping their children get to school.
The packages are valued at around $150 each.
The foundation and CMSD will collect data to measure the effectiveness of the Special Teams Packages and track the impact of new clothing on keeping school absences under 10 days per year, said Lorri Hobson, director of the District's attendance office. The hope is that providing appropriate clothing will eliminate one of the barriers to school attendance and improve students' academic performance.
When students come to school in a uniform that doesn't fit them or isn't clean, it can take a toll on their academic performance and emotional well-being, Hobson said. This can stem from a variety of circumstances including poverty, homelessness, fires, catastrophic events, foster care situations or students outgrowing uniforms when their family is financially unstable.
"We don't want students to feel isolated or ostracized because they don't have the right clothing or they don't fit in with their peers," she said. "We want every student to feel welcome and know that they belong."
The attendance office is working with Project ACT, a District program that provides services to homeless students, to identify children who will receive the packages. Individual school staff members can also refer students. The packages are being delivered discreetly to students or parents so students won't feel embarrassed, Hobson said.
The Browns Foundation is encouraging fans to support the initiative by volunteering to help assemble the packages. To volunteer, send an email to info@SC4K.org.