Return to Headlines
Artemus Ward students observe No One Eats Alone Day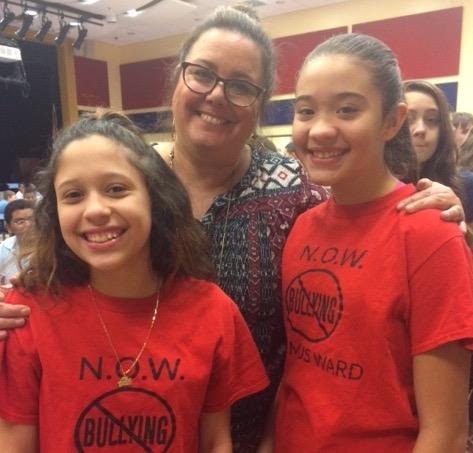 CMSD NEWS BUREAU
2/7/2017
For students dealing with social isolation, eating lunch alone can be one of the hardest parts of the day. That's why seventh- and eighth-graders at Artemus Ward School have pledged to become more inclusive and look out for their classmates.
On Tuesday about 100 students there participated in "No One Eats Alone Day," which thousands of students across the country are taking part in this week. Buckeye Health Plan brought the program to the school with Beyond Differences, a national nonprofit dedicated to helping students to end social isolation.
"It's about celebrating differences to promote inclusion," said Buckeye Health Plan spokesman Michael Craun. "From a health perspective, social isolation can cause depression, anxiety, self-harm and poor physical health."
Beyond Differences created No One Eats Alone Day to encourage students to interact with classmates outside of their regular social circles to prevent social isolation, which is often a precursor to bullying. As they filed into the cafeteria, students each picked a number that corresponded to a table where they ate lunch, shared stories and watched Beyond Differences videos about the effects of social isolation.
The moderators also invited students to share their own experiences with social isolation and bullying with the lunchroom. One girl said she didn't like that some students were divided into cliques like "jocks" or "nerds" and that she was sometimes picked on for being labeled as the latter. A boy shared an experience when a group of his peers teased him about his shoes.
Before they went back to class, each student signed a banner to commit to doing their part to include their peers at their lunch tables and in other activities.
Artemus Ward students said that while they were skeptical of the lunch mix-up at first, they ended up being moved by the experience.
"I really liked it because I realized it's true that nobody should eat alone at lunch," said eighth-grader Peter Vance. "If you have more friends then you don't have to be down. If someone is being bullied, even just sitting with them can make them feel better.
Fellow eighth-grader Gloria Lycer Grayer agreed and said she's going to make an effort to be more inclusive.
"I'm going to sit with more people when they're sitting alone," she said. "If I see someone who looks like they're feeling down, I actually think I'll help them and try to fix their problem."
Artemus Ward is one of six schools in Ohio, including CMSD's Miles Park School, that Buckeye Health Plan works with through its Adopt-A-School program. Buckeye Health Plan conducts monthly health classes with fifth-graders to cover important topics like nutrition, self-esteem and exercise.
School nurse Sherdina Williams said the educational resources for parents and students she receives from Buckeye has helped to improve health education at Artemus Ward.
Both Artemus Ward and Miles Park won bronze awards in 2015 from the Healthy Schools Program, sponsored by the Alliance for a Healthier Generation. The program evaluates the ways schools promote nutrition, health education and physical activity and create a healthy environment for students and staff.
The Beyond Differences event was part of ongoing efforts to improve students' overall health, Principal Chris Myslenski said.
"The program fit perfectly with our overall focus on promoting healthy lifestyles," he said. "To me, things like this are about celebrating differences and the fact that what makes our school great is that we are all different."