Return to Headlines
Teachers learn how trauma affects students, how they can help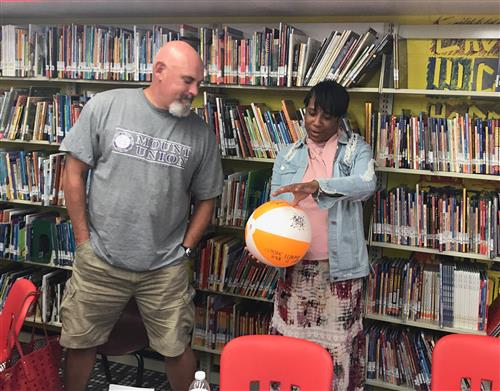 Marion-Sterling School teachers participate in the "thumb ball" activity as part
of trauma-informed teaching training through FrontLine Services.
CMSD NEWS BUREAU
8/16/2017
Last fall, some students walking to school in Cleveland's Central neighborhood saw something that would be difficult for anyone to forget.
A dead body, bloody from gunshot wounds, was lying behind a community center. A bus driver called 9-1-1, but by the time police arrived, several groups of students had already passed by the scene.
Incidents like this aren't uncommon in Central and can have lasting impacts on children, which is why the Cleveland Central Promise Neighborhood, a collaborative effort designed to elevate educational and developmental outcomes of children in the Central neighborhood, decided to do something. The organization is providing teachers in two neighborhood CMSD schools with training in how to address the unique needs of students who experience trauma.
In the coming months teachers at Marion-Sterling and Alfred A. Benesch Schools will receive six hours of training that will cover the psychological and physiological effects trauma has on children and classroom strategies for helping students overcome barriers to learning.
Richaun Bunton is the education performance manager at Central Promise Neighborhood. She said teachers and schools feel the impact of incidents like the one described above.
"If that's what students are seeing on the way to school, they're not just worrying about if they did their homework or if they're doing well in class," Bunton said. "Now they're thinking about the fact that they saw a dead body on the way to school."
Students who grow up in Central often face more challenges than those in other areas. The child poverty rate (81.2 percent) is higher than any other neighborhood in Cleveland, according to Center for Community Solutions. Children there are also more likely than others to be exposed to gun violence, sexual violence and, most prevalently, domestic violence.
These are some of the statistics that Marion-Sterling School teachers learned during their first, hourlong training session with crisis intervention specialists from FrontLine.
Frontline is a local outreach agency that specializes in behavioral health, homelessness and trauma. They spent an hour with the Marion-Sterling teaching staff discussing the effects that violence can have on children's mental health and academic performance and what teachers can do in their classrooms to alleviate some of the symptoms that make it harder for the children to learn.
Rosemary Creeden, a licensed social worker and the associate director of trauma programs at FrontLine, is one of the three trainers working with CMSD teachers.
"We want to help teachers understand the impact of trauma on the children they are teaching and some of the reactions to trauma that children may exhibit in the classroom," Creeden said. "They can look at these behaviors through a different lens, through a trauma-awareness lens."
These behaviors include difficulty focusing, increased anxiety, restlessness, irritability and withdrawal, among others, Creeden said. Students might also come to school feeling very tired because they had difficulty sleeping.
"When we read about shootings in the news, we have to remember there are children who live in those neighborhoods who hear those gunshots, and the people being hurt in these gun exchanges are people they know," she said.
Many CMSD teachers are keenly aware of what their students go through. Lakesha Boyd, first-grade teacher at Marion-Sterling, said she sees the effects that Creeden described almost every day in her classroom.
Last year, one of Boyd's students had a family member who was shot to death, and Boyd noticed a major shift in the girl's behavior. The girl experienced emotional highs and lows and seemed to suddenly be attached at Boyd's hip.
Boyd attended the first training and is hopeful that she'll learn strategies to help her students.
"Working in a community where you see students struggle with different things from home, I think that the training will be very beneficial," Boyd said. "It already gave me some ideas for what I can do in the classroom to help with the different issues I see."
While most of the first training focused on informing teachers about how trauma affects students, Creeden and her colleagues also took some time to go over some helpful classroom activities.
Some activities centered around mindfulness in the classroom, like chair yoga and breathing exercises. Another, called "thumb ball," involves writing fun or academic questions on a beach ball. The participants gather in a circle and throw the ball. Whoever catches it must answer the question that his or her thumb lands on. It's a way to promote movement and help children relieve stress.
The next sessions will delve further into classroom techniques and how teachers can build resiliency in both students and themselves.
Boyd, the first-grade teacher, has been following some of the news around neighborhood crime and is keeping it in mind as she welcomes her students back from summer break. She is glad she found a use for the bag of beach balls she brought to her classroom over the summer. The "thumb ball" activity, she said, might be a good way to break the ice.