Return to Headlines
Washington Park senior named Boys & Girls Clubs' Ohio Youth of the Year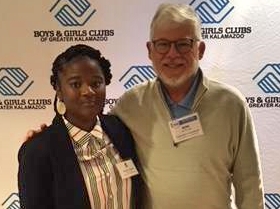 Washington Park senior Tamara Thomas with Ron Soeder, president and chief executive officer of the Boys & Girls Clubs of Cleveland.
CMSD NEWS BUREAU
3/27/2018
The Boys & Girls Clubs organization has chosen Tamara Thomas, a senior at Washington Park Environmental Studies, to be its 2018 Ohio Youth of the Year.
Tamara won the state competition last weekend at a conference of the Boys & Girls Clubs' Michigan-Ohio Area Council in Southfield, Mich, and was previously named the Boys & Girls Clubs of Cleveland Youth of the Year on March 9. She now advances to regional competition, scheduled for July 17 in Chicago, and if successful there, will go to national competition in September in Washington, D.C.
To win the Ohio competition, Tamara was interviewed by state judges and a gave a speech that focused on her personal brand, vision for today's youth and Boys & Girls Club experience. She was picked over nine other candidates.
Tamara said she described her brand as one of "a girl striving for a life of integrity" and trying to show peers that the only limits to their success are those they place on themselves. She also said that growing up in Cleveland contributed to her work ethic and dedication, quoting LeBron James' well-known line that here "nothing is given. Everything is earned."
She said her vision for today's youth is that "we can speak up for what we believe. We can change the injustices we see, not just for us but for generations to come."
Tamara is a six-year member of the Boys & Girls Club on Broadway in Cleveland's Slavic Village neighborhood and has volunteered with club service projects. She also founded a charitable community giveaway at the Greater United Church of God and Christ and organized a Stop the Hate walk at Washington Park.
She served an internship last year with the Stephanie Tubbs Jones Legal Academy at Case Western Reserve University. During that time, she also took law classes at the university, shadowed judges and lawyers and participated in Mock Trial.
Tamara has decided to attend Xavier University. She has said that she hopes to eventually study international law.
The Boys & Girls Clubs of Cleveland operates 15 clubs and teen centers, including nine in CMSD buildings. The sites include Andrew J. Rickoff, Franklin D. Roosevelt, Luis Muñoz Marin, Michael R. White, Mound and Walton schools, East Tech High School and the John Adams and Lincoln-West campuses.
Have a story idea for the CMSD News Bureau? Send it to newstips@clevelandmetroschools.org.