Return to Headlines
Bard's first 4-year class graduates with head start on college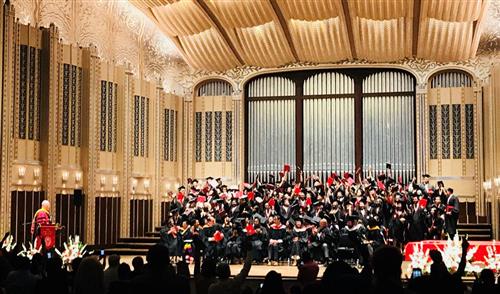 CMSD NEWS BUREAU
6/8/2018
Bard High School Early College Cleveland West Campus said goodbye this week to the first students to go through all four years of the program, and the class statistics show the school is accomplishing its mission.
Of the 97 seniors, 70 percent left with both their high school diplomas and an associate of arts degree from Bard College in Annandale-on-Hudson, N.Y. All the new alumni have earned at least a year of college credit that can be transferred to other institutions.
"It's a strong starting point," Principal Dumaine Williams said. "In the future, we're going to push to get even more to two-year degrees."
Bard West opened four years ago with ninth- and 11th-graders. Last year, CMSD added Bard High School Early College East at the John Adams Campus, making the District home to two of only five such Bard schools in the United States. The Cleveland Plan, a customized blueprint for education reform, calls for providing students and families with a variety of models so they can find the right fit.
Bard's goal is to transform urban education by improving college readiness and ensuring that students not only go to college but finish. The schools, which employ teachers accredited as college faculty, seamlessly integrate coursework so students may simultaneously earn both a high school diploma and a tuition-free two-year degree. For example, a high school literature course covers material that a college freshman would need to know.
Bard College President Leon Botstein participated in the commencement exercises Tuesday at Cleveland's Severance Hall. Among the graduates he heralded was the first from a Bard high school in Cleveland to enroll at Bard College in New York.
Wynnter Millsaps, Class of 2018 salutatorian, is headed there on a full Bard Early College Opportunity Scholarship. She plans to major in international relations and minor in Spanish. After getting her four-year degree at age 20, she might join the Peace Corps, study law, assist refugees or enter politics.
Bard High School gave her a preview of college from Day 1. Adults not only asked her to read; they also inquired what she had gleaned from the content. If she struggled, the teachers were there to help. Wynnter visited the college for debate tournaments and class trips more than a half-dozen times while in high school and quickly realized that she wanted to enroll there.
"While it was foreign, it was also a place I knew because that's what Bard is like," she said. "I could see myself physically being there."
Bard high schools ask prospective students to apply, submit a writing sample and participate in an interview. But a high grade-point average is not a prerequisite; the school is looking for students with a passion to learn.
Bard High School Early College West, like other new CMSD high school models, is designed to be small and personalized. It received 250 applications for the incoming ninth grade and accepted half that number and started a waiting list.
Have a story idea for the CMSD News Bureau? Email it to newstips@clevelandmetroschools.org.