Return to Headlines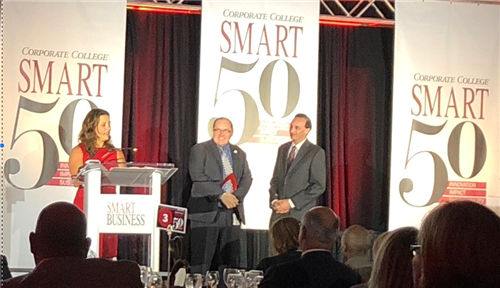 CMSD NEWS BUREAU
6/28/2018
CEO Eric Gordon received awards Wednesday for building and leading an effective organization and for his impact on the District.
Corporate College and Smart Business magazine honored the CEO and 49 other top executives with presentation of the annual Smart 50 Awards at the InterContinental Hotel. Gordon also received a separate award for his impact, one of three special categories that also include innovation and sustainability.
In a rundown on the winners, the magazine cites Gordon's role as one of the chief architects of The Cleveland Plan, a customized blueprint for education reform that was written into state law in 2012. The magazine noted that the plan has transferred authority to schools, created a portfolio of school options and increased test scores and graduation rates.
Gordon was named District CEO in 2011, after serving four years as chief academic officer.
Among other award winners were Bill Priemer, president and CEO of Hyland; Zack Bruell, founder, Zack Bruell Restaurant Group; Matt Kaulig, president and CEO of LeafFilter Gutter Protection; and Joe DiRocco, regional president of Fifth Third Bank.
"This entire class of honorees demonstrate the savvy leadership necessary to foster organizations built to last," Dustin S. Klein, publisher of Smart Business said in a news release. "They ply innovation, make significant impact on the community and understand that business is won or lost by organizations that are able to weather the ups and downs over decades."
Have a story idea for the CMSD News Bureau? Email it to newstips@clevelandmetroschools.org.