Return to Headlines
Attendance campaign reaches goal for 3rd year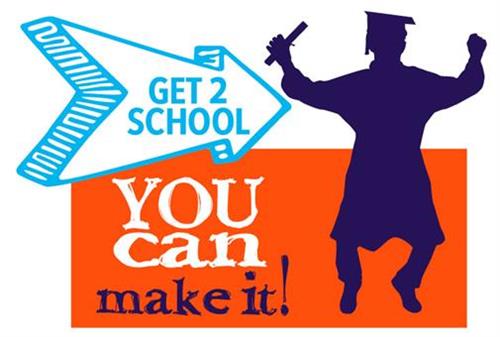 CMSD NEWS BUREAU
6/28/2018
CMSD's attendance campaign surpassed its goal for reducing the percentage of students who missed more than 10 days of class during the 2017-18 school year.
The "Get 2 School. You Can Make It!" campaign helped to decrease the percentage of students with "off-track" attendance by more than 10 percent when compared with the average of the previous three years. The goal was 7.5 percent.
Fifty-nine percent of District students missed 10 days or less. The average for the preceding three years was 53.2 percent.
The campaign began three years ago and has now met or exceeded its goal each year.
"Get 2 School. You Can Make It!" emphasizes the importance of regular attendance to success in education and includes prizes and other incentives for schools that show improvement.
The Cleveland Browns Foundation has served as the campaign's signature partner from the start, providing financial and other support. Players have visited schools to stress the campaign message.
Chronic absenteeism is a nationwide problem. In March, "PBS Newshour" reported on the progress the campaign has achieved in Cleveland.
The state defines chronic absenteeism as 10 percent of the school year, or 18 days. But CMSD sets a more rigorous standard because District data shows that students who miss more than 10 days score an average of 15 points lower on state math tests and 12 points lower on reading exams. High school students are 34 percent less likely to graduate and third-graders are 9 percent less likely to meet Ohio's Third Grade Reading Guarantee.
CMSD will kick off the 2018-19 attendance campaign on Saturday, Aug. 4 during the annual Mayor's Youth Summit and CMSD Back to School Fair at Public Auditorium.
Have a story idea for the CMSD News Bureau? Email it to newstips@clevelandmetroschools.org.