Return to Headlines
CEO moves up to chair-elect of urban schools council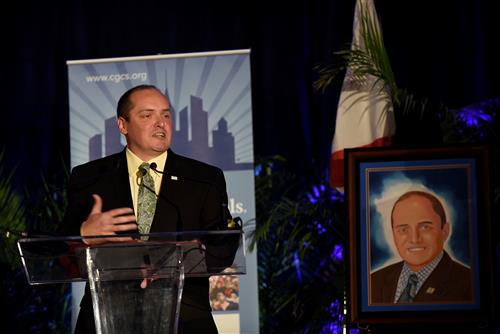 CEO Eric Gordon accepts the Green-Garner Award, presented to the urban educator of the year, at the Council of the Great Cityi Schools' fall conference in 2016.
CMSD NEWS BUREAU
6/29/2018
CEO Eric Gordon will be the new chair-elect of the Council of the Great City Schools Board of Directors, putting him in line to lead the prestigious group's board a year from now.
The council serves 70 of the nation's largest school systems and is the voice of urban education. Services include advocacy, legislation, communications, research, professional development and technical assistance.
The council's board officers serve one-year terms in the rotating positions, starting July 1. Gordon, who will remain District CEO, moved up from secretary-treasurer.
Lawrence Feldman, a member of the Miami-Dade County School Board, will be chair this year. The 140-member board is made up of a superintendent and school board member from each of the 70 member districts. Michael O'Neill, a member of the Boston School Committee, will take over as secretary-treasurer and Felton Williams, a board member with California's Long Beach Unified School District, will be immediate past chair.
The council held its annual fall conference in Cleveland last October, drawing more than 1,100 urban superintendents, school board members and other leaders to the Huntington Convention Center and surrounding attractions. The turnout was the second largest in the council's 61-year-history.
Recognizing CEO Gordon's role in implementing The Cleveland Plan's school reforms, the council presented him with the Green-Garner Award, at the 2016 conference. The honor goes to the nation's outstanding urban educator.
The award, which alternates between superintendents and school board members, was given to Cleveland Board of Education member Denise Link in 2013.
Have a story idea for the CMSD News Bureau? Email it to newstips@clevelandmetroschools.org.