Return to Headlines
CMSD creates support system for new teachers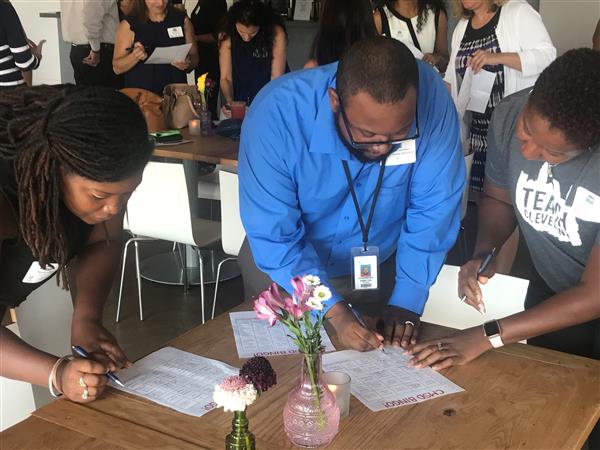 A reception for CMSD's new teachers included a game of bingo.
CMSD NEWS BUREAU
8/30/2018
Dozens of new CMSD teachers gathered Thursday at a restaurant on the East Ninth Street Pier. It was not so much an after-work party as it was an effort to make them feel at home and supported.
The reception at the Nuevo Modern Mexican and Tequila Bar kicked off the second year of TEACHing Cleveland, a teacher-retention initiative that the intercollegiate Mid-American Conference has sponsored with a five-year $1 million grant funded by the College Football Playoff, George Gund and Cleveland foundations.
The goal is to fortify and keep quality teachers as they deal with the challenges of urban education. And evidence indicates it's working – 81 percent of last year's new teachers have returned, up 3 percentage points from the previous year. Backers believe the program could become a model for the nation.
CEO Eric Gordon likes to remind teachers that as urban educators they are performing some of the most important work in the profession. Addressing the crowd at Nuevo, he acknowledged that simultaneously serving a vast organization like CMSD can leave teachers feeling faceless and frustrated, but he said that in Cleveland their needs will not be ignored.
"Our bet is on talent," he said, echoing a promise in The Cleveland Plan to give students top-notch instructors. "We will find and support the best people in the field."
Besides the reception, TEACHing Cleveland includes the New Teachers' Learning Series. The series, which can earn teachers graduate credit, provides professional development and familiarizes them with the city's history, culture, economics, public policy and youth engagement.
New this year will be the designation of three experienced teachers who will each work full time as mentors to 10 new teachers and assist others as needed. Another addition is Teaching Channel Plus, an online platform where new teachers can find resources for planning, classroom management and instruction.
CMSD hired more than 150 teachers this year who are new to the profession or the District. Gordon noted that the group is CMSD's smallest batch of new hires in a while but is larger than the total number of teachers employed by many other school systems.
Kelly Kaczynski has taught for 13 years in charter schools but as of this month pursues her love for developing student potential in special education at Patrick Henry PreK-8 School. She welcomes the opportunity to network with other newcomers.
"Everyone in my building is great," she said. "But it's nice to see what other new people know and what they don't know."
Megan Cerbin, who is teaching fourth-grade English language arts and social studies at Scranton PreK-8 School, just graduated in December. She said the suport she receives from TEACHing Cleveland will help her better support her students.
Program mentor Linda Palombo-King, a teacher for 25 years, all but three of those with CMSD and Louisa May Alcott School, has been there. She said vaulting from college to work with only student teaching for experience is challenging, especially in a system as large and complex as CMSD. Looking back, she said her biggest question as a newcomer was "Where do I start?"
"You learn all the theory and practice," she said. "How do you put it into place? Student teaching just gives a very short glimpse."
Kristin Williams serves as associate commissioner of the Mid-American Conference, a Cleveland-based intercollegiate athletics league with members stretching from western New York state to Illinois. She said the MAC's interest in helping retain excellent teachers stems from its interest in preparing student athletes for success in the classroom.
"Why not get involved in our own community?" she said. "The best way to support students is to have good teachers."
Have a story idea for the CMSD News Bureau? Email it to newstips@clevelandmetroschools.org.