Return to Headlines
Board gives CEO four-year extension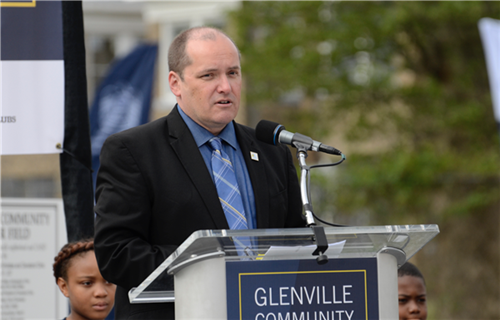 CMSD NEWS BUREAU
1/24/2019
CEO Eric Gordon, who already ranks as the District's longest serving superintendent in four decades, has received a four-year contract extension.
The Board of Education voted 8-0 Tuesday to approve an extension that will take effect July 1 and run through June 2023. For a copy of the contract, go here.
Board members expressed enthusiasm as they cast their votes. Board chair Anne E. Bingham said Gordon has restored public confidence in the schools.
"I believe that Eric Gordon brings a rare combination of effectiveness, intelligence, integrity, energy, optimism, humor and humility to the very demanding job of running a large urban school district," she said.
Gordon's base remains at $257,588 a year. The agreement allows for annual increases, with the percentages set by the board.
The CEO can also earn up to $26,000 in bonuses by reaching goals in 13 categories, including K-3 literacy, state test scores, graduation rate, parent engagement and reduction of chronic absenteeism.
The base is still below his predecessor Eugene Sanders' $276,000 salary and the $278,000 paid to Barbara Byrd-Bennett, who was CEO from 1998 until Sanders took over in 2006.
Gordon was appointed CEO in 2011 after serving four years as chief academic officer.
He worked with other community leaders to win state approval of The Cleveland Plan, a customized blueprint for education reform in the city. More recently, he collaborated with them to gain designation of Cleveland as a Say Yes to Education chapter, which will bring college scholarships for CMSD students and align services to keep them on track to graduation.
CMSD's graduation rate and performance index, a composite of all test scores, are growing faster than those of Ohio's other large urban districts. The District's most recent report card showed an average 6.7 percent increase in test scores, compared with the state average of 1.23 percent.
During Gordon's tenure, voters have approved and renewed an operating levy that has made reforms possible. They also passed a bond issue for school construction.
Gordon is now the longest serving CMSD superintendent since Paul Briggs, who held the job from 1964-1978. From 1978 until the time of Gordon's appointment, the District had 14 leaders.
Have a story idea for the CMSD News Bureau? Email it to newstips@clevelandmetroschools.org.