Return to Headlines
CMSD to share planning recommendations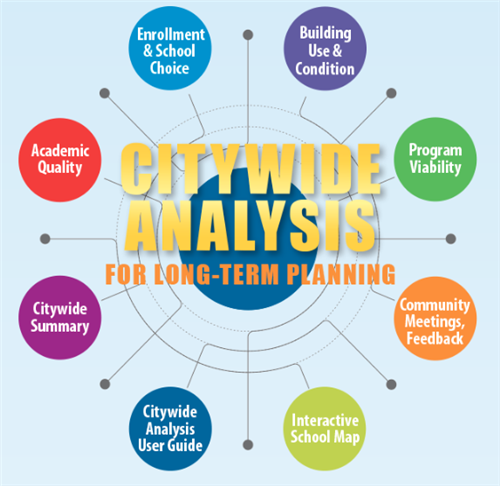 CMSD NEWS BUREAU
5/8/2019
CMSD will host a series of six regional meetings, beginning May 15, to present draft recommendations for the future of the District's academic programs and facilities.
The proposals will be based on data from four metrics – academic quality, enrollment and school choice, building use and condition and program viability – as well as feedback collected at seven well-attended community meetings in April.
CEO Eric Gordon discusses the process to date and next steps in a video that can be found at qualityschoolsforCLEkids.org. The site also shows feedback that more than 300 parents, educators and other stakeholders provided online and at the April meetings. Gordon said District leaders are grateful and impressed by the feeback and ideas.
More feedback will be gathered before final recommendations for K-8 schools go to the Board of Education in June. The process will be repeated for high schools in the fall.
Gordon said the goal is to ensure equitable access to quality schools and make efficient use of resources. He called for keeping a "laser-like focus" on giving all children access to strong academic offerings and buildings modernized during the District's ongoing construction and renovation program.
The CEO said the community has made clear that improving school quality should be the "ultimate driver" of the long-term planning. He said suggestions have included drawing on what's working in and beyond the District, enriching student learning experiences, working more strategically to recruit and retain students and making tradeoffs, like eliminating some programs and buildings, "if it means more resources for better student outcomes."
Gordon said all recommendations will be solidly supported by rationale that reflects data and community input. He said savings will be used to improve education across the District.
"By working together and keeping our sights set on what is best for the most students in Cleveland we can make our system stronger and better for all students," Gordon said.
The Bond Accountability Commission and Board of Education had called for planning that takes into account shifting enrollment patterns, increasing construction costs and reduced state funding.