Return to Headlines
CMSD shares social, emotional learning expertise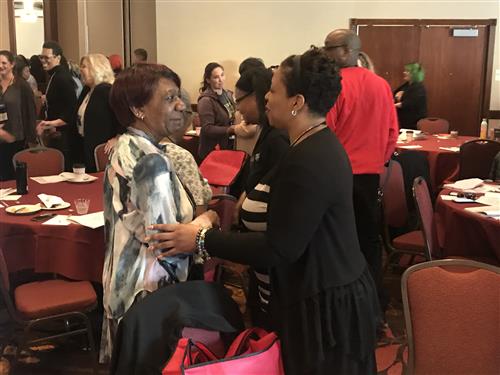 Participants at a social and emotional learning conference get acquainted during a warm-up activity.
CMSD NEWS BUREAU
5/16/2019
CMSD, a national leader in social and emotional learning, is personally sharing that expertise with neighbors.
At least 10 school systems registered for an SEL conference that CMSD hosted Thursday and will repeat Friday. Upward of 400 participants from Cleveland, other districts and community agencies are spending one of the two days at the Hilton Garden Inn.
CEO Eric Gordon opened the gathering by outlining curriculum and other sweeping steps that the District has taken to help students manage their emotions, make responsible decisions and form healthy relationships.
What is called the Humanware program began to take shape after a student at a now-defunct downtown high school opened fire in 2007, wounding two classmates and two teachers before killing himself. Gordon has pledged to continue talking about that day in hopes of avoiding another tragedy.
"We see this as a lifetime journey," he said. "We don't feel as if we have arrived and that we have solved the problem."
CMSD and the Cleveland Teachers Union have written Humanware's provisions into the union contract to ensure a lasting commitment to social and emotional learning. CTU vice president Jillian Ahrens, union point person on the subject, stressed the importance of giving teachers a voice in how SEL is implemented in their classrooms.
Lakeside High School Principal Robert Klinar was one of 12 representatives of the Ashtabula Area City Schools attending the conference. He said the district recently launched an SEL initiative of its own.
"We want to meet the needs of students who come to our schools every day with concerns and emotional issues," he said in an interview. "In the end, if we are unable to do that, we can't help them achieve."
The conference is focusing on restorative practices, which balance discipline with helping students find the right path. Fania Davis, a leading national voice on the subject, is the featured speaker.
Humanware includes classroom curriculum from preschool through eighth grade, class meetings and a 400-plus member CEO Student Advisory Committee that give students a voice in their education, planning centers where students go to map out how they can correct misbehavior, bullying prevention and more.
CMSD school climate has improved markedly under SEL. And Bill Stencil, who is leading Humanware for the District, said research shows strong SEL has led to higher test scores in CMSD schools.
"We want to remove the idea that what we do is a program," he said. "It is the fabric of our District. That is how you change attitudes and culture."
The District's work in social and emotional learning has gained such prominence that the prestigious National Commission on Social, Emotional and Academic Development visited in May 2017 to begin laying the groundwork for a report on the subject. In January of this year, the commission released recommendations that mirror many practices already under way in Cleveland.